Desktop use bounces back as internet traffic hits new heights
Internet traffic in January hit new heights as desktop use bounced back from a seasonal downturn and mobile browsing experienced the biggest single jump in its history, according to Nielsen's Online Ratings.
In figures released yesterday, growth was noted across the entire online universe resulting in unique audience increases of over 5% month on month for most of the top ten brands. The biggest increase was recorded by eBay, with a 12% increase in unique audience, boosting the brand from the eighth to the seventh most visited destination by Australians. The shopping site also performed well for time on site with an average monthly time per user of one hour and 55 minutes, placing it behind only Google and Facebook.
The order of the top three – Google, Facebook and NineMSN/MSN – remained unchanged, while YouTube leapfrogged Microsoft to move into fourth place with an 8% increase in traffic.
Facebook remained streets ahead in terms of time on site with an average of eight hours and 13 minutes. The nearest competitor was Google at one hour and 57 minutes.
Head of Nielsen's media practice group, Matt Bruce, says all the major brands swung back up this month after a seasonal dip. The increase in traffic was primarily driven by women, whose "activity levels saw a marked increase in (average page views) in January."
"YouTube and eBay have both jumped a place in the top 10 and Blogger re-entered the top 10 brands," Bruce says.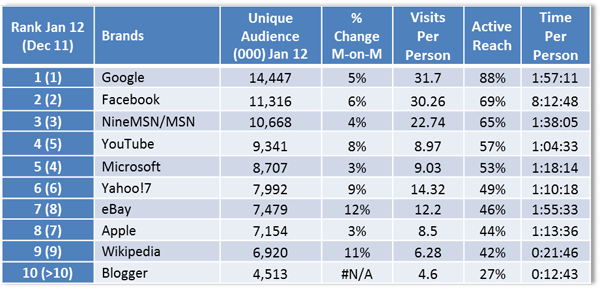 Of Australia's population of 22.8 million, 16.4 million were active online during January.
The findings show that the internet is now dominated by those over 35 years of age, with 59% of users in January that age or above.
Image credit: Viktor Hertz.