Facebook launches Timeline for pages, new mobile and premium ad units
The update Facebook brand page owners have been waiting for has arrived with the release of a new Timeline-style format for brands, as well as a coupon tool, new placements for premium advertising and sponsored stories for mobile.
The announcements, made overnight at the first Facebook Marketing Conference (fMC) in New York, will allow businesses to better brand their pages with cover photos, showcased information and key content by pinning a new post to the top of the page each week.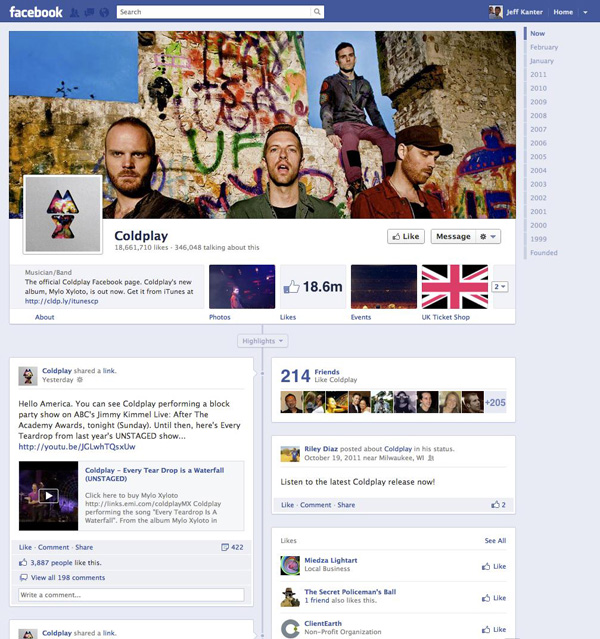 Other key changes to the new page design include:
Friend activity: When someone first visits a page, they may see friends' interactions with that page spotlighted as friend activity, making each visit to a page more relevant and individualised. People will also see how many of their friends are connected to a page,
Larger stories, milestones and page timeline: The new page design allows page owners to tell richer stories through bigger photos and milestones that can include a date and other content,
'Offers' coupon tool: 'Offers' is a free and easy way for businesses to share special discounts and promotions to their community through Facebook. They let a business share a discount or promotion directly from a Facebook page. They can be distributed through the news feed or promoted as sponsored stories, and redeemed via email or on a mobile device,
Activity log: Page administrators have access to a log of their page activity, including tools to easily highlight, hide or delete posts and change the date of a post,
New admin panel: To make it easy for page administrators to track performance and respond to private messages from people, and
Real-time page insights: Over the next few weeks, real-time page insights will be made available to all page admins globally. Page admins will have instant access to valuable insights about their page, such as people talking about this and page post metrics including reach (organic, paid and viral) and engaged users. This will allow better control of what's happening on a page and faster response.
Users will have until 31 March to refine their page layout in preview mode, before the Timeline design will be enforced on all pages, although those that want to can switch from today.
As part of the updates, Facebook has also introduced premium ads and sponsored stories in two new places: the Facebook log-out page and the news feed of mobile apps and web versions.
The premium ad units enable brands to use the content they post on their page as the ad unit, such as the Titanic example given below.
A new 'reach generator' product, has also been introduced allowing brands option to pay Facebook for guaranteed news feed distribution to up to 75% of all their fans.
The beefed up advertising options should provide Facebook much needed additional revenue streams, particularly via mobile which is seen as the future of social networking, as it transitions into a publicly listed company.