Five things that will shape social media in 2021
As we close out one of the most tumultuous years in recent history, Amaury Tréguer is back to predict what five things will most impact social media in 2021.
It's that time of year again – time to predict what the future holds for the next 12 months. For the past six years, Marketing Mag has been giving me the opportunity to play with my crystal ball and I'm as enthusiastic as ever about the trends of our ever-evolving industry. Check out my previous predictions right here: 2016, 2017, 2018, 2019 and 2020.
Before I start, let us farewell the year that was, 2020. What a year! Sometimes I wish we went straight from 2019 to 2021 without passing by 2020 but, I feel that there has been a lot to learn from and be grateful for.  
Interestingly, social distancing has actually made us closer. We brought back the 'social' in social media. Love and a sense of belonging have never been more important. We witnessed some of the most amazing initiatives from businesses. Initiatives that provided support to the ones in need, sometimes even saving lives – proving one more time that purpose-led businesses, or the ones having a meaningful impact in the world, are the ones that will survive in the long run.
From a digital point-of-view, we have seen a real transformation. The pandemic has accelerated ecommerce growth globally. Experts estimate that we've noticed in certain countries, a 10-year growth in just an eight-week period. And obviously this shift is now permanent. As predicted last year, social commerce is booming; proving one more time the crucial role of social media in the sales funnel.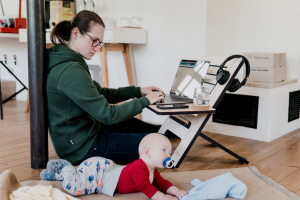 We have seen video conferencing apps such as Zoom, Teams or Houseparty experiencing record numbers of downloads and share prices rocketing. Zoom is now worth more than the world's seven biggest airlines – who could have predicted this last year? Fake Zoom backdrops became a thing and numerous brands have jumped on the bandwagon, presenting a new way to advertise furniture and home décors or dreamy locations for a post COVID-19 era. 
The re-birth of QR codes. While we thought they were gone back in 2019, they are now everywhere and we scan them every single day multiple times. The perfect way of bridging the offline with the online world in just a couple of seconds. 
The rise of 'edu-tainement content' from brands as well as the 30 percent decline in imagery of people hugging, kissing or holding hands in social ads. So many changes in just one year.  
Now, what does 2021 have in store for us? Here are my top five predictions for next year:
Low-fi and participatory content on the rise 
During lockdown, with most productions and shoots on standstill or cancelled, brands had to find new ways of creating content. The two easiest options were to dig-out the goodies from their archives or rely on user-generated content (UGC). UGC is not new but even though the benefits are numerous, it has been largely untapped by brands. 
With the pandemic, brands had to re-evaluate the type of content that they were happy to publish on their channels. Highly polished content had almost no role to play during the lockdown. How could a brand publish sophisticated content while only essential work had to be carried on and social distancing respected?
Low-fi content has been embraced at rapid rate and celebrated as one of the best ways to show authenticity in this new norm. Brands such as Apple, Nike, AirBnB used existing UGC for above-the-line (ATL) campaigns and people congratulated them for that. 
Ultimately ideas don't necessarily rely on the quality of the imagery or sound, but in the emotions that they convey, the message that they carry or the power of storytelling. And when all those elements are ticked, these ideas work, affect bottom-lines and even win Lions at Cannes – no matter how low-fi they look or sound. 
This trend also explains the craze around TikTok. TikTok has been celebrating low-fi content and challenges since its inception. COVID-19 has only accelerated this 'challenge' movement. The idea that you can create a 'viral video' (dare I say it) right from the comfort of your own home by dancing, cooking, exercising or doing any type of mental or physical challenges and knowing that a lot of people might try to mimic your moves. 
Brands obviously jumped on that bandwagon and created their own challenges to encourage users' participation in exchange of some social love and share on the brand channel. 
Attention is a currency and marketers need to create campaigns and experiences that embrace the participation of their audience, even if it means that the output will not be as polished as their usual type of content.
Gaming is going mainstream
Gaming is not new but this has been an industry that has been taken by storm since the lockdown. When self-isolation was in place, what a better of socialising than participating in online multi-players games with friends or even complete strangers. 
Besides the sense of connection, gaming has been embraced for its pressure reliever and uplifting attributes. As a matter of fact, 'Nintendo's Animal Crossing: New Horizons' game (released on the 20th March, 2020) became a global 'hit' straight from the get-go with players keen to experience an island life with simple tasks like nurturing lands, picking-up fruits, relaxing on a beach, fishing or connecting with other villagers. 
Gaming influencers and eSport legends are becoming celebrities in their own rights and collaborate with the most adventurous brands willing to tap into their varied audiences. Contrary to popular opinion, gaming is not only made of teenagers stuck in their bedrooms, but a staggering global audience of two billion people from all generations and genders categorised by time-spent playing. There are 'casual-gamers' (who play less than five hours), 'gamers' (playing five to 20 hours) and 'serious gamers' (who play more than 20 hours per week). COVID-19 has naturally accelerated the number of 'serious gamers'.
During lockdown, gamers have also spent more time than ever watching video game streams. According to the 'Global Gaming Study: Impacts of COVID-19' by Dynata and Simon-Kucher & Partners, more than 80 percent of gamers indicated watching streams during lockdown compared to 57 percent before that. Time spent on Twitch and YouTube Gaming are ramping up with the latter celebrating a record of 100 billions of hours watched on the platform in 2020 with more than 40 million channels on YouTube (compared to 35 million last year). The motivations are different from one age group to another, while the under 25 are here for the entertainment, the older (above 25) are looking to improve their skills. 
Major brands including Nike, Toyota, Coca-Cola and Louis Vuitton have already ventured in this space by sponsoring games, organising exclusive design collaborations or even establishing their own eSport teams; however, the uptake should be greater once marketers realise the potential of the phenomenon and the numerous opportunities – from content and advertising to sponsorship and gamification of their own products and services. In a post-pandemic era, people are craving entertainment more than ever and gaming represents the perfect window. 
Social Media Optimisation (SMO) – the new search
Social media platforms are overloaded with high-quality content that has only been seen by a small portion of people or worse, has never been found. This is partially due to where these pieces are hosted, whether these platforms have their application programming interfaces (APIs) opened or not, and the way algorithms work, including the steep decline in organic reach. 
A real misfortune that should hopefully come to an end in the coming years.
SEO and social media have long been considered as two very distinct disciplines. However, over the past year, there has been a bigger correlation between both.
Social media platforms are becoming search engines in their own rights. People are typing keywords, hashtags, locations or profiles in platforms search bars to find content of interests. And social bios, the number and profile of your followers can bump up your social search ranking.  
In the same vein, Google's 'Expertise, Authoritativeness and Trustworthiness' (EAT) algorithm and social signals (likes, shares and comments) are contributing to Bing's search results are an attempt to bridge the gap between the two disciplines and ensure that the right content gets resurfaced in search results. 
Therefore, using SEO's principles, marketers should use their headlines, meta-description and keyword heavy content to raise their social ranking and drive more eyeballs to their owned platforms. As we all know, being featured on the first page of Google can make you win big. 
Les Binet recently pointed out that there is very little correlation between how much people talk about brands on social and how those brands do in the real world, however 'share of search' could potentially predict share of market. Indeed, a brand receiving a high share of search relative to its size, tends to indicate that it's about to grow. Another sensible reason for looking after your SMO. 
The Direct-To-Consumer (DTC) rush
As briefly mentioned earlier, one of the most notable transformations of this year has been the boom in ecommerce. This sudden shift was caused by the closure of non-essential stores and the 'stock-piling' mentality, forcing people to go online to find products. Indeed, online grocery shopping has been adopted faster than ever before, and people are getting used to shop online for all their products and services. This behavioural change has fundamentally affected the retail landscape forever.
In order to reap the benefits, or in some cases survive, brands have invested into their own digital presence more than ever before. As part of their investments, some started to explore the opportunity of going DTC by launching their very own estores – making it easy for consumers to directly purchase their products on the brand's site instead of relying on the retailer's site. 
Brands like Vegemite locally, Pepsi and their 'PantryShop' in the US, or 'Heinz To Home' in the UK are leading the way in the FMCG space. 
Once the estore and logistics are in place, the benefits are numerous. Besides finally giving a good reason for the audience to visit the brand's website on a regular basis, brands can then offer personalised merchandise or bundles that can't be found anywhere else; explore subscription models to get repeated sales, engage with their audience directly and most importantly garner first-party data.
Indeed, with the slow death of third-party cookies and the reinforcement in data privacy regulations, it is becoming crucial for marketers to start capitalising on their own customer data instead of relying on social platforms or retailers to access their audience. Without intermediaries and a greater understanding of audiences, brands can then deliver more bespoke and richer experiences, products or services to audiences and start building customer lifetime value. A win-win situation for both marketers and customers. 
Proving one more time that marketers should aim to limit their reliance to 'rental solutions' such as social media platforms and concentrate all their efforts on their owned channels and customer database. If not already in place or on the roadmap, marketers should start planning what their DTC strategy looks like in 2021. 
From 'Influencers' to 'Connectors'
During the lockdown, another notable industry hugely impacted has been the influencer sphere. Indeed, with mobility limited, borders closed, restaurants, shops and gyms shut down and marketing budgets on hold, influencers were stuck at home trying to adapt to this sluggish situation, or even trying to re-invent themselves to stay relevant. Some did well and jumped on livestreams, home cooking and fitness class trends, others simply didn't 'survive' the lockdown and quickly became irrelevant. All of this proving that online influence can be ephemeral and that a brand should broaden its circle of influence.  
Last year, I was predicting that employees were the new influencers and this got validated in a heartbeat when CVOID-19 hit and brands started to use the power of their own people to amplify their brand message and stay afloat.  
Today the evolution of influence is such that the typical transactional relationship between a brand and an influencer often results in a mismatched value exchange. Instead, brands should look to partner with 'connectors', they are storytellers for the brand offering value through their voice in exchange for opportunities to collaborate with a reputable, trusted brand. The aim is to engage with connectors not just for what they say, but what they do and their level of trust. Basically, evolving from a stop-start relationship to an ongoing value exchange. 
On that basis, connectors can take various forms and shapes and play various purposes in exchange for different rewards. For example, while employees are the perfect allies to showcase the company's culture and motivated by a sense of belonging and recognition; company executives inspire brand purpose and positioning an exchange of getting their personal profiles elevated. On the other hand, industry experts help boost the brand's credibility in exchange for a platform to be heard.  
Once you open the brands' circle of influence, the possibilities are endless. Our 'Connector Matrix' also covers celebrities, ambassadors, journalists, partners, content creators, publishers and customers. All playing a very distinctive role for brands.
– – –
So there you have my top five predictions for 2021. What are yours? Keen to get your thoughts!
Photo by Standsome Worklifestyle on Unsplash.
Photo by Joel Bengs on Unsplash.