Four Seasons introduces 'The Extendables' puppet show and app to help sex-starved parents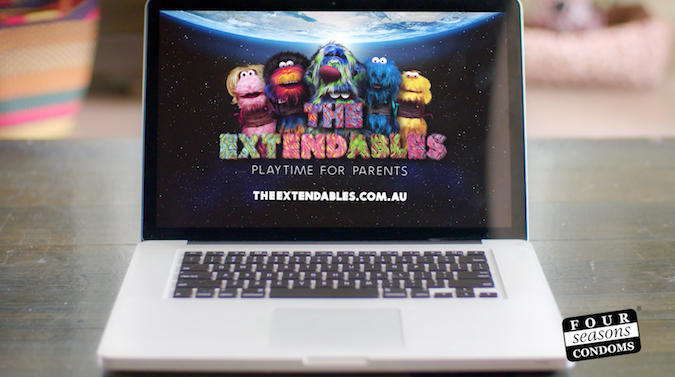 Four Seasons has developed The Extendables, a new kids' show and app designed to occupy and monitor kids while parents are in the bedroom.
Four Seasons Condoms and its agency, Marcel have launched The Extendables, a puppet-based entertainment program designed to help parents get more time for sex without interruption from their children.
Pairing smartphones to any tablet, computer or smart TV provides not only a screen to display the show but the webcam becomes a  motion sensor to alert parents when kids move away from the screen.
The 'extend' function enables parents needing a little more time when the video finishes to extend the show by five minutes, time and time again.

The launch came after Four Seasons found that one-third of Australian parents have a fear of being interrupted during sex.
Almost three-quarters of respondents (73%) have been interrupted by their kids during sex, and 22% reported having less quality time for romance and sex at times when kids are around like school holidays.
"This is a real issue that affects nearly all parents at some point of their lives and I hope our fuzzy friends allow parents around the world to connect again," says Wesley Hawes, deputy ECD at Marcel Sydney.
"I'm the target audience. I've got two children – a three-year old and a seven-week-old – and I haven't had sex for about four years," he says.
The Extendables is launching with a Facebook campaign.