How GE Capital revitalised a tired content format for the mid-market
This marketing case study looks inside the strategy, execution and results of Edelman's campaign for the 'GE Capital Australian Mid-Market Report 2014' that saw big improvements in consumption by refreshing the traditional report format.
Campaign: Mid-market report
Client: GE Capital
Agency: Edelman
Background
Australian mid-market businesses represent the great untold story of the Australian economy. GE Capital has been championing this high performing sector for some time.
GE Capital is considered a market leader in the mid-market business segment. The 'GE Capital Australian Mid-Market Report' checks the pulse of mid-market businesses, conducting in-depth analysis of sentiment, seeking to understand the challenges and opportunities that drive the mid-market, so that GE Capital can provide better products and services. It is one of the largest single studies of mid-market business sentiment in Australia.
But, like many research reports, its hardcopy format was tired. GE Capital worked with Edelman to develop fresh and innovative ways to engage this important customer group for the 2014 version of the report.
With the ability to draw on three years of data and analysis, GE Capital was looking to cement its position in an increasingly competitive finance market. Its core focus was the key growth sectors of food and beverage, technology and transportation.
Objectives
GE Capital's communication goal was for the Australian business community to view GE Capital as an expert in mid-market business and be central to the conversation about the mid-market. With three years of data behind it, it was time to evolve the report and showcase the expertise GE Capital had developed.
The campaign needed to:
develop a compelling thought leadership position and competitive point-of-difference in an up-to-date digital format
deliver a suite of assets profiling the mid-market, and serve the multiple needs of GE Capital – from sales to media relations
build on GE Capital's positioning as the expert on mid-market businesses, investment and business solutions through the production, delivery, distribution and promotion of a compelling Mid-Market Report
evolve the report format and narrative to ensure it works harder as a thought leadership piece and key tool for the GE Capital customer relations and sales teams, building a conversation with this audience over time, and
promote the breadth of GE Capital's knowledge and work in Australia's mid-market business sector through a targeted media outreach and engagement campaign.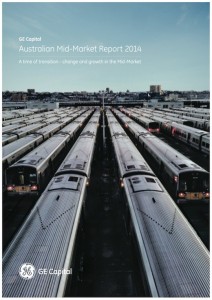 Strategy
The brand insight
GE is a global leader in innovation, so the report and GE Capital needed to align with this brand promise.
The cultural insight
According to the 2014 Edelman Trust Barometer, financial services was the least trusted industry, with only 50 percent trust from informed publics. Data from Harris Interactive and Statists also found that 46 percent of US internet users read books, indicating the printed word stills holds resonance and authority. GE Capital is a highly regarded brand in global capital markets and, as such, the end product needed to reflect this to ensure it could be endorsed by sales teams and executives alike.
The channel insight
Research with GE Capital suggested sales teams used smart devices in client conversations and were looking for better tools to help them engage. The key growth sectors of transport, technology, and food and beverage mean that these audiences are often on the go, are using multiple channels to source information and engage with decision-makers.
Format and narrative
The report used many new elements to innovatively tell the story of the 2014 Australian mid-market. The format changed from a straight print document to one supported by an online platform. This allowed the report to develop over time and easily store GE Capital's growing collection of data. It also reflected the increasingly digitally connected GE Capital customer. GE Capital wanted its customers to use the report to network and connect with their customers and business partners, as much as it did drive business back to GE Capital.
The narrative moved away from a data heavy reflective report towards an insight rich, forward looking hub with key take-outs for those invested in the mid-market. This came as a request from the GE Capital sales team, who were constantly searching for case studies for their existing and potential customers. Broadly, the content of the report is relevant to all mid-market businesses. To ensure the program was aligned with GE Capital's business strategy, however, there was a particular focus on three different industries (technology, transport, and food and beverage) to support lead generation.
In the 2014 report the content broadened. It wasn't just copy with a static graph. Animated videos gave a digestible overview of the report's scope. Animated feature graphs gave life to the data and allowed sentiment to be mapped by geography. A timeline of international and domestic events was included to help provide context for the data.
As for most campaigns, achieving cut-through among the clutter was a challenge. Relevant stories are lost because good journalists simply can't get through their inbox. GE Capital pre-empted this by heading into its second year of partnership with BRW (Business Review Weekly). The partnership worked because it was relevant. It's the sort of data BRW's readership wants to know about. This was supported by a traditional, earned media campaign. The report's release was scheduled to fall on the same day as the Federal Government's Commission Audit release. This was mitigated not only because of the media partnership, but because the report was designed to be a hub, which updated over time.
Execution
The report's execution can be broken down into two phases: report development and report engagement.
Development
By March 2014, DBM Consultants and Genpact had provided the quantitative and qualitative research, which formed the bulk of the report. Edelman and GE Capital used this data to develop a report that would be digestible, valuable and shareable, and would reflect the changing nature of the mid-market over the course of a year.
DBM Consultants, Genpact, GE Capital and Edelman worked together to ensure the research outputs were going to tell the mid-market audience something useful. Mid-market businesses in the technology, transport, and food and beverage sector were interviewed and shared their experiences over the past year, which were then turned into case studies. In addition, over 5000 mid-market businesses participated in the qualitative research.
The mid-market online hub was designed, built and populated within a few months in the lead-up to the report's release on 1 May 2014.
Engagement
Through the research development GE Capital engaged with its employees and encouraged them to provide recommendations for the upcoming Report. In addition to being a thought leadership tool, the report is used on the frontline of customer engagement to showcase GE Capital's understanding of the mid-market. It needed to reflect the requirements of those using and reading the report.
There was both an internal and external report launch. A Q&A Town Hall session gave GE Capital staff a chance to give feedback, reflect on the past year, and map out what FY15 means for their customers.
The external launch was in partnership with BRW. A range of GE Capital stakeholders were invited to attend the evening event. The event was launched using the animated video developed for the report, which explained the key findings and their relevance to the mid-market. Three breakout sessions and panel discussions allowed delegates to hear from peers and industry leaders in food and beverage, transport and technology. The topics focused on key findings from the report and on issues relevant to these industries. It was a great example of the report being used to generate a customer-centred business conversation.
GE Capital's Twitter and mid-market LinkedIn Hub were used to amplify the launch event and encourage an online conversation.
In addition to the media secured through the partnership with BRW, economic and finance media were targeted with the findings specific to their respective states. Technology, food and beverage, and transport trade media were also targeted with findings specific to their industries.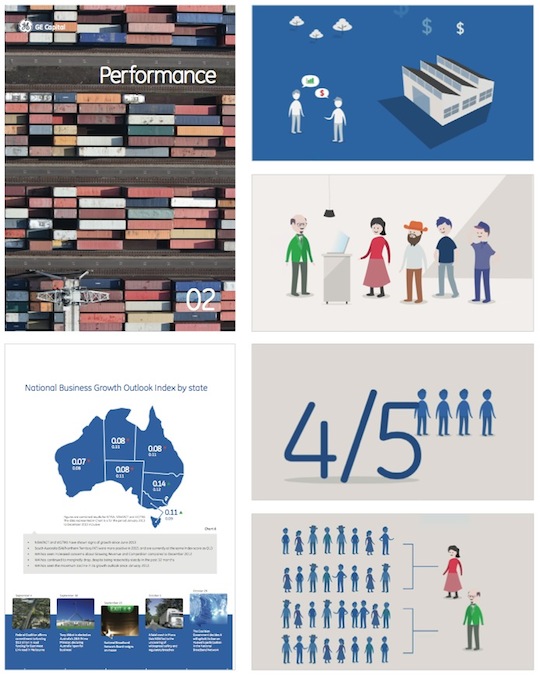 Results
The campaign successfully positioned GE Capital as the expert in mid-market business and finance. The platform used to launch the report offered a more versatile product, and the content offered was more digestible. This is reflected by:
96 percent increase in traffic to GE Capital's mid-market page (from 84 to 1933; at the time of writing page views have maintained in the thousands each month)
99 percent increase in views of online report (from seven to 478), and
97 percent increase in PDF downloads (from three to 113).
This data compares figures for April 2014 with those collected in May 2014.
The event was attended by over 100 key mid-market customers and prospects. #MMforum14, relayed the social media activity at the launch, with close to 100 tweets and 200 retweets, which delivered 625,000 impressions and a reach of 65,000.
Articles about the Mid-Market Report launch and GE Capital were also cross-promoted on GE Reports, a digital storytelling platform, which led to several direct business leads.
The '2014 GE Capital Australian Mid-Market Report' was a joint winner of the Public Relations Institute of Australia's Victorian Golden Target Award in the B2B category.