Instagram reverts back to old feed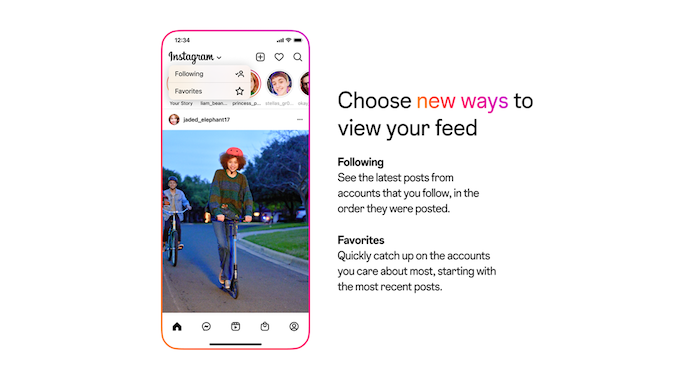 Instagram has heard the people. Ever since it got rid of its chronological feed, people have been complaining. From 24 March 2022, users can now choose between chronology or algorithm based scrolling.
The social media platform has given control back to the users. There are now two new ways to choose how you scroll your feed: Favourites or Following. Choosing between these tabs will allow users to tailor and personalise their scrolling experience.
Accounts added to the Favourites tab will show up at the top of users' home feed. This will allow posts from the users' favourite creators to be the star of the feed. Up to 50 favourites can be added, and these can be changed at any time. 
The Following tab will filter by accounts followed. Both features are sorted by chronological order to help users quit the dreaded doom scroll. The new way allows users to quickly catch up on the latest content on the go. Research shows that people are more satisfied with a ranked feed, so Instagram will not be defaulting people into a chronological feed experience. 
So, after six years, and countless cries from users that the algorithm is affecting traction, Instagram has heard the calls. 
The only catch? Neither of these options are the default. For the time being, users will still see the algorithm feed that's dominated for six years. The changes will need to be manually selected. But, it's seen as a step towards two things: more user control, and less favouritism from the algorithm.