Know your Weishi from your Wanpai – how brands can play on China's social video apps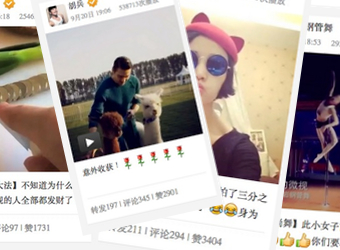 Video sharing apps are huge in China too, but their names aren't quite as familiar as Instragram or Vine. Mathew McDougall writes how Weishi and Wanpai present a great opportunity for brand content and product placement to Chinese social media users.
YouTube founders Chad Hurley and Steve Chen have taken it upon themselves to develop a new Vine-like app, called Wanpai, which enables users of the Chinese social networks Sina Weibo, Tencent Weibo, and Renren to enjoy video sharing. The app resembles Vine and Instagram in functionality and layout but was developed specifically with Chinese users in mind.
Tencent Weibo has also entered the video-sharing market with a video sharing app called Weishi, which enables video sharing through WeChat. This app alone has over 430 million users and the site generated 160 million views in one day.
Clips can feature anything from homemade short clips to memes of your favourite television show. A simple nine-second sketch of a nurse waking up a patient achieved over one million views in one week. Given this clip was rather simple in its content, had no message, and was not corporately sponsored, this is an impressive figure. However, it is not unusual. Many other clips achieve similar viewing figures and demonstrate how many people social media can reach.
Both Wanpai and Weishi are underused by brands to market their products, especially in the luxury brand markets. While luxury brands have a high presence on other social media forums, with users often discussing the brands and sharing brand news and knowledge with one another, they have yet to tap into the video sharing market to reach their customers.
While eight seconds is a short time for brands to make an impact, there is an easy way to overcome this problem: product placement. This method enables the brand to focus on the content of the advert, which could be anything, and simply have its product present in the clip. This is not only a more subtle way of marketing your product but will also reach consumers on a subconscious level
Product placement within Wanpai and Weishi videos has proven to be an effective way of advertising. This method is highly popular in China as a way of achieving a reaction in a short time frame. Product placement is an effective way of allowing enough time for the rest of the content to stand out.
Research suggests that viewers respond better to clips set in either a home or work environment, as they are able to easily relate with the familiar setting. This setting is also an easier way of utilising product placement and making it feel natural. While this image is not particularly associated with luxury brands that often use a more extravagant setting for their advertising, it could be an effective way of opening themselves up to a new market.
In China, 50% of social media users say they followed one or more luxury brands on social networks. (This is second only to Brazil where 52% of social media users follow luxury brands.) Of that, 74% say they do so because they are fans of the brand and 42% say they want to find out news and information. These are all potential sharers of Weibo and Weishi clips and as established fans of the luxury brands on other social networks it is likely that many of these users would want to view and share the clips with fellow fans and their friends on other networks who can be turned into fans.
Product placement, especially when naturalised, is an effective way of connecting to consumers who will relate to the people in the clips enjoying the same brand they do. Once the brand has connected with the consumer then a greater level of brand loyalty and trust can be established. Best of all, it enables the brand to have a bit of fun with their fans.