Mashable redesign helps status-seekers share breaking news first
'Connected culture' news site Mashable has redesigned to help readers identify and share the next big story, playing to the digital generation's desire to demonstrate how switched on they are.
The site, which started as a digital and technology news site, has redesigned its home page to help readers stay "ahead of the curve" by splitting content into three sections – new stories, 'the next big thing' and stories that are trending.
The new site also introduces a number of innovative features including 'microcontent' sharing, which lets readers share portions of a page's content, infinite scrolling so that the home page pops up below the story, embeddable content in the comments section and Pinterest-inspired image features.
Founder and CEO of the site, Pete Cashmore, explains that the changes have been driven by the influence social, mobile and visual factors are having on the web. "Social networks have evolved beyond personal updates to become venues for news discovery," Cashmore writes. "Mobile phones and tablets have become an increasingly popular way to read Mashable on the go. Meanwhile, modern web browsers now let us make websites that work more like apps."
Explaining the rationale behind the home page layout, Cashmore says, "the reverse chronological layout of most news sites doesn't tell you which stories are most important right now. Using data from social networks and a brand new algorithm, we now show you which stories are taking off on social networks, and which are the most-shared of the day."
Stories begin in a column called 'the new stuff'. If they are about to break out on the social web, they progress to the middle column, 'the next big thing'. Those stories with the most social engagement move to 'what's hot'.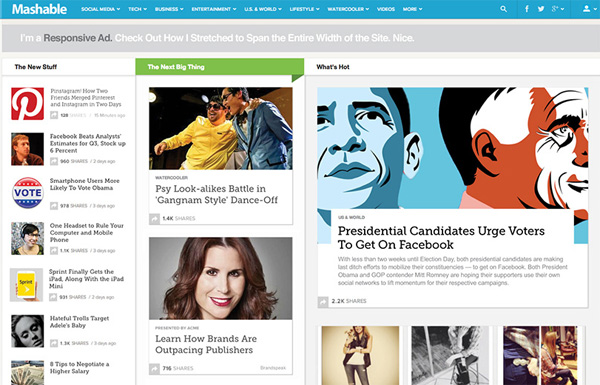 Stories are allocated to the next big thing category based on a predictive algorithm.
The site, which boasts 20 million monthly unique visitors, has also made an extensive investment in smartphone and tablet apps, to cater to the 30% of its traffic which comes from mobile devices.
Its new design launched overnight after two weeks of beta testing.