Media Monday: Abbott calls social media 'electronic graffiti'; in-flight mag readership is flying; 10's worst OzTam ratings ever
PM Tony Abbott describes social media as 'electronic graffiti'
In-flight magazine readership is, well, flying, and
Channel 10 posts worst ratings since OzTam ratings started.
Prime Minister Tony Abbott has commented on the effect that the 24-hour news cycle has had on Australian politics and described social media as 'electronic graffiti' in an interview with esteemed political reporter Michelle Grattan.
See the PM's comments below:
Michelle Grattan: I've heard it said that you believe the political process has speeded up considerably since the Howard days. Do you think the PM's job has changed since those days?
Tony Abbott: I think there is no doubt that the advent of 24/7 news channels, which are voracious in their demand for constant new content, has accelerated the political process. The rise of social media, in addition to talkback, I think has intensified the political process.
The thing about social media is that it is anonymous, so it can be much more vitriolic and extreme than normal media and yet it is there for everyone to see. It is kind of like electronic graffiti. The political process is accelerated and intense in a way that I don't believe it ever really has been before
Michelle Grattan: And that's changed the prime minister's job?
Tony Abbott: It is just an added element of pressure, that's all.
Airline magazines are flying high with a 14% increase in readership in the past year, the latest results from Roy Morgan Research show. In 2013, 841,000 Australians read at least one airline magazine in an average month – over 100,000 more readers than in 2012.
Qantas' inflight magazine The Australian Way looks set to crack the half-million mark after scoring a 15% rise from 430,000 monthly readers in 2012 to 496,000 in the 12 months to December 2013.
After reaching 282,000 monthly readers earlier in the year, Virgin's offering Voyeur finished 2013 with an average of 257,000, up 4% on its 2012 results.
But Jetstar Magazine scored the year's biggest annual proportion gain: up 18% to 214,000 average monthly readers.
Double-digit growth for the Qantas and Jetstar publications landed each among the top 10 fastest growing magazines in the country for 2013.
In-flight magazine readership trend: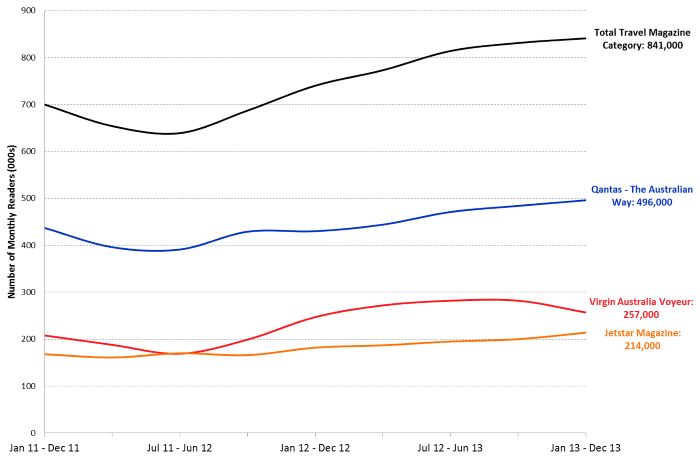 Source: Roy Morgan Single Source (Australia), January 2011 to December 2013: rolling 12 months by quarter, Australians 14+ average n = 51,653
Tim Martin, general manager, media, Roy Morgan Research, says, "Despite the pressure the airline industry is under, airline magazines are growing, and continuing to reach a lucrative audience.
"25% of people who earn over $250,000pa read an airline magazine in an average month; of these, the vast majority read Qantas: The Australian Way.
"Airline magazine readers are 86% more likely than the average Australian to intend to buy a new car in the next year, with preferences tending towards purchasing the luxury car brands such as BMW, Lexus and Volvo.
"The strong performance of the travel magazine category and its skew towards male readership (60% of readers are men) is consistent with recent readership growth in titles targeted towards men."
Things appear to be going from bad to worse over at Channel 10 with the network posting its lowest ever Sunday night ratings with a 5.9% audience share last night, according to the preliminary OzTam ratings. This is the lowest audience share for the network's main channel since OzTam ratings started in 2010.
Nine's The Block: Fans v Faves trumped Seven's My Kitchen Rules with Nine pulling in an audience of 1.732 million for the show, and was the highest rating show of the night. MKR was still the second most watched show of the evening, bringing in 1.570 million viewers.
Top 10 shows of the night:
The Block: Fans v Faves Nine 1.732m
My Kitchen Rules Seven 1.570m
60 Minutes Nine 1.424m
Seven News Seven 1.331m
Nine News Nine 1.260m
Sunday Night Seven 1.185m
Downton Abbey Seven 1.095m
Fat Tony & Co Nine 1.036m
ABC News ABC1 828,000
Rake ABC1 759,000
Sunday network share: 
Nine 27.5%
Seven 26.5%
ABC1 11.2%
TEN 5.9%
ONE 5.0%
GO! 4.5%
7TWO 3.5%
Gem 3.3%
SBS ONE 3.1%
7mate 3.0%
ABC2 2.2%
ELEVEN 1.6%
ABC News 24 1.1%
ABC3 0.7%
SBS 2 0.7%
NITV 0.2%
Images credit: Phillip Minnis / Shutterstock.com