NRMA content marketing targets over-50s market with new online community site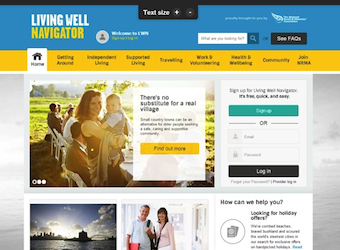 The National Roads and Motorists Association (NRMA) is engaging in content marketing with the launch of its Living Well Navigator, an online content community for over-50s offering resources and social opportunities around lifestyle, health and employment.
The content website provides support for over-50s in the workforce in response to the Australian government upping the retirement age. The site aims to challenge generational stereotypes.
A series of articles fit into the categories, 'Getting Around', 'Independent Living', 'Supported Living', 'Travelling', 'Work & Volunteering' and 'Health & Wellbeing', while a 'Community' section hosts forums for users to connect with each other.
NRMA says it has drawn on its knowledge of the over-50s market to create the content along with content marketing agency King Content.
The Living Well Navigator includes a dedicated jobs portal to connect mature jobseekers with age-friendly employers, as well as providing interview-preparation support.
NRMA president Kyle Loades said the website would aim to provide help for mature-age jobseekers to find and hold good jobs.
"60% of NRMA's 2.5 million members are over 50 (1.4 million) and they have consistently told us they want to live independently and in control of their lives as they age."
Age discrimination commissioner Susan Ryan AO said the site would advance key goals in realising the value of increasing longevity.
"We need to recognise the wealth of talent and experience in our older citizens, support their dignity and choices and maximise the opportunities for them to contribute to our society and economy."
Living Well Navigator ambassador Deborah Hutton said:
"The view of being an 'older worker' at 45 is ludicrous, we are in the prime of our lives. Technically you're older but you're much wiser – just consider the wealth of knowledge you have gathered at this point. We don't want to be pigeonholed and pushed aside."
NRMA is hosting free community events across New South Wales to celebrate the content marketing site launch and will give away an Optimum Wellbeing 50 Plus holiday for two at the award-winning Gwinganna Retreat in Queensland.