Nutri-Grain repositions with branded content showcasing 'unstoppable' individuals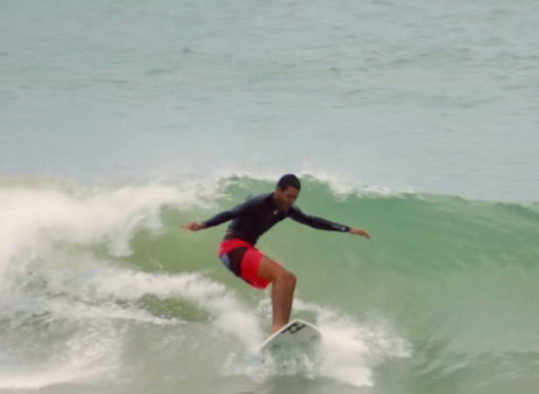 Kellogg's Nutri-Grain cereal is repositioning itself away from 'Iron Man Food' towards celebrating individuals who live 'unstoppable' lives, starting with a branded video series showcasing blind Brazilian surfer Derek Rabelo.
The new brand positioning reflects insights gained through a Nutri-Grain and mental health service ReachOut.com study that found more than half of Australian teenagers give up on their goals before achieving them.
Key points from the study into 500 14-to-19-year old Australians (60% male, 40% female) include:
81% set short term or long term goals,
58% give up before achieving those goals,
common barriers include: tiredness (38%), lack of determination (36%), study/work commitments (35%), technology distractions (32%) and lack of courage (21%), and
45% are optimistic about the future.
The new campaign, created by JWT Sydney in conjunction with partners Finch, Mindshare, Liquid Ideas and VML, includes long and short form content, supported by TVCs, digital, online, PR and social executions.
The branded content series will feature a number of inspiring stories to be released over the coming weeks, each dramatising the new brand belief: 'The only limits are those you place on yourself'.
The first story, of Brazilian surfer Derek Rabelo, tells the story of how he refused to be held back – from dreaming as he listened to the waves, to the reality of surfing the legendary and extremely dangerous Pipeline break in Hawaii. Viewers also get a sense of Rabelo's latest challenge – downhill skateboarding.
Here's the full version of the Rabelo story:
John Broome, marketing director at Kellogg, says: "This is an important piece of work for Kellogg. Nutri-Grain is a power brand that needs to stay relevant to teens, so we wanted to inspire them by bringing to life powerful stories of individuals who have shown courage, strength and determination – even in the face of adversity."
JWT executive planning director Angela Morris says the new move is an attempt by Nutri-Grain to "reconnect with an audience that's been pretty indifferent to cereal advertising".
"Moving to a belief based platform gives the brand reason and right to shift away from talking at them from the breakfast table and instead to have a more meaningful and relevant dialogue in the teen's world."
Simon Langley, ECD of JWT Sydney adds that every element in the brand's marketing mix has been changed.
"From positioning, to pack, to new iconography around the Nutri-Grain bolt, and the whole communications model with the move into content publishing, all carefully honed to earn teen attention and engagement.
"This is truly a big idea that gives the brand a new role in teens' lives."