Olympics topples US election as most tweeted, Obama people's favourite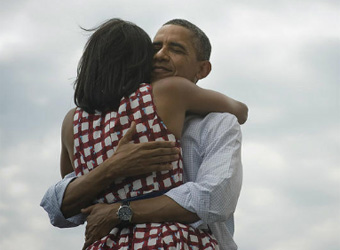 While the Olympics garnered more tweets than any other event during 2012, including the US Presidential Election, President Obama's 'Four more years' re-election tweet was the strongest single post of the year.
In fact, Obama's tweet, which was retweeted more than 816,000 times, is the most-retweeted post ever, according to Twitter's list of the most-tweeted events in 2012.
"Within hours, that tweet simultaneously became the most retweeted of 2012, and the most retweeted ever. In fact, retweets of that simple message came from people in more than 200 countries around the world," Twitter spokeswoman Rachael Horwitz says.
Despite the fuel this iconic tweet added to the buzz around the election, the London Olympics had the most overall tweets of any event, with 150 million sent over the 16 days.
The closing ceremonies (specifically, the Spice Girls' performance) amassed the largest Games-related spike, at more than 116,000 tweets per minute. The largest competition-related conversation came when Jamaica's Usain Bolt won gold in the 200-metre sprint, generating 80,000 tweets per minute.
By comparion, 327,452 tweets were sent per minute on election night in the US, resulting in 31 million election tweets for the day. However, the election was not able to sustain activity over its entirety to amass as many tweets as the Olympics.
Over 52 million votes were cast via tweets for the 'most sharable video' for this year's MTV Video Music Awards show, with the show itself generating 14.7 million tweets. The biggest peak of the night went to the moment One Direction won 'best pop video' with 98,307 tweets per minute. Taylor Swift's performance was the night's second biggest moment, generating 86,275 tweets per minute.
The Super Bowl, Euro 2012, Superstorm Sandy and Whitney Houston also ranked in the top events discussed during the year.