Pinterest analytics firm launches contest app and Facebook integration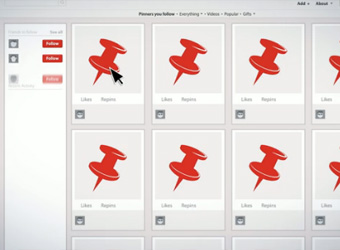 Pinterest analytics firms Pinfluencer has launched a competition platform for the social scrapbooking site that provides the architecture to manage promotions and integrate with Facebook.
The platform is similar to the competition apps that social marketing software companies such as Wildfire create to help brands manage promotions on Facebook.
'Pinterest Promotions' launched yesterday, according to Adweek, allowing brands to set up contests and sweepstakes on Facebook or the brands' own sites that link back to their Pinterest pages. The idea is to convert Facebook fans into Pinterest followers and stimulate sharing, or 're-pinning' of the brand's Pinterest content.
Fashion retailer Gilt has come onboard as a launch partner for the platform with a 'Pin to Win: Gilt Wedding Style!" contest. The competition asks users to create a pinboard and repin one of five bridal gowns from Gilt's wedding pinboard, as well as add images of other parts of their dream wedding.
Ten other companies tested the platform in beta over the past month, Adweek reports, and EBay and Sephora are set to launch their own Pinfluencer-powered campaigns next week.
CEO of Pinfluencer, Sharad Varma, said the platform will enable brands to cross-pollinate their Facebook and Pinterest fan bases, but added that its more than just an acquisition play. "Through our contest analytics dashboard, brands can easily get high-level ROI metrics," Varma said.
Pinfluencer measures Pinterest page performance metrics like number of pins, repins, clicks and page views. It also has the ability to track revenue from purchases that stemmed from engagement on a page or from one of the Pinterest Promotion contests.
Brands can use that data to see what content performs best on Pinterest, but down the line they could use it to inform off-Pinterest advertising, Varma told Adweek.
"At some point, [brands] can also use contest pinboards and promote them on online display ad networks as a way to drive traffic to the boards," Varma said.