Product design and design thinking at Pinterest
Mia Blume is a rare breed of designer – on top of being a creative type with a graphic design degree, at the age of 11, she taught herself HTML and CSS just for fun. So it's no surprise that she would end up in Silicon Valley as technology and product designer for the highly visual, yet highly technical, social media platform, Pinterest. Blume is in Australia this week to speak at AgIdeas International Design Forum. We caught up with her ahead of her visit.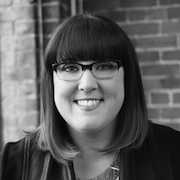 Marketing: What methods does Pinterest use to design new products, innovate and stay relevant? Can you take us through an example of a customer-centric design process at Pinterest from strategy to execution?
Mia Blume: At Pinterest, we have a variety of methods and tools that allow us to create new products and features. From field research with actual and future pinners to rapid prototyping, we seek to build products that help people discover the things they love and take action on them in real life.However, the most important aspect of our process is the way we work. At Pinterest, our teams 'knit' together during the product development process. Designers, engineers and product managers work closely together bringing a wealth of experience and unique perspectives to the creative process. Through rigorous exploration, productive debate, and creative ingenuity, we collaboratively build the future of Pinterest.
M: As a social m
edia platform, Pinterest tends to sit just outside of the mainstream, attracting dedicated niche audiences. How do you see Pinterest fitting into the marketing mix?
MB: Today, Pinterest is comprised of 50 billion pins collected by people onto more than 1 billion boards. Every year, we serve more than 1.5 trillion recommendations to pinners across a variety of interests, from broad interests like gardening and motorcycles to nuanced subjects like indoor succulent gardens or restoring classic scooters. Pinterest helps people discover content that's relevant to them from partners and pinners around the world.
M: How, in your opinion, does design help businesses solve problems?
MB: Some of the best examples of innovation today have emerged from the world's design-savvy businesses. Design can help businesses create compelling products and services that not only meet key business objectives, but develop empathetic brands and products that people admire.
M: You talked in the Wall Street Journal about how design thinking can be applied to business processes such as designing a team. Can you tell us a bit more about why your thoughts on how design thinking can be incorporated into various aspects of business?  
MB: Design thinking is a way of solving problems creatively. It can be applied to many industries – from healthcare to financial services – and a variety of problems.
Design thinking starts with empathy and understanding and leverages creative ideation and generation to explore potential solutions. Then through rapid design iteration and feedback, one can solve nearly any problem at hand, whether it's improving your product or organization.
M: You were previously interaction design lead at Ideo. What can you tell us about how that experience working for what is arguably the world's leading design thinking agency shaped your views and methodology?
MB: My time at Ideo absolutely shaped who I am today. In many ways, I 'grew up' as a designer at Ideo. I learned how to design with empathy for humans and translate these opportunities into positive outcomes. I was fortunate enough to absorb industry knowledge from some of the top experts across engineering, user research, design and even behavioral economists! It was at Ideo where I learned the value of interdisciplinary teams and the power of collaboration.
M: What was it about technology that excited you enough to teach yourself HTML and CSS at 11 years of age?
MB: I was attracted to technology because of the possibilities it provided for communicating and creating new things. I loved that I could apply my traditional design skills to a medium that was dynamic and constantly evolving. The web was so open-ended and undefined, and in many ways technology remains emergent and endless.
M: What are your thoughts on the future of social media, design and technology? What advice do you have to marketers on what they should look out for or expect for the future?
MB: I think the face of advertising is rapidly changing. With the onslaught of digital advertising, we've applied old approaches to new technologies. Unfortunately, these paradigms don't make sense any more, which has created inauthentic (and sometimes frustrating) experiences.
In the future, marketers should expect to adopt radically new approaches, especially for mobile. Connecting to your audience will be increasingly viable digitally, but the tolerance for irrelevant or disruptive advertising will be higher than ever. People will seek out meaningful connections, experiences, and products and ignore or leave the rest behind.