Facebook's Instant Articles: great UX or the end of media as we know it?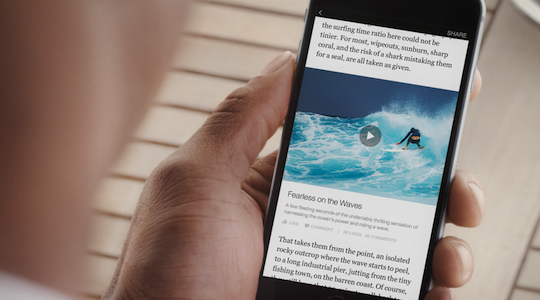 Facebook's new Instant Articles has sparked controversy across the internet since its launch overseas yesterday. The new partnerships with publishers to post their multimedia content direct to the platform in return for a cut of ad revenue marks the "Culmination of Facebook's quest to absorb the internet", according to TechCrunch.
Facebook yesterday announced it would launch Instant Articles on its iPhone app in partnership with nine publishers in the US, UK and Germany:
The New York Times,
National Geographic,
BuzzFeed,
NBC News,
The Atlantic,
The Guardian,
BBC News,
Spiegel online, and
Bild.
A Facebook spokesperson told Marketing an Australian launch date is yet to be announced.
Instant Articles aims to create a seamless experience for the Facebook user to read articles while browsing through their news feed.
Built on the strong tech foundations of the global social network, Instant Articles will offer an improved user experience compared to many publishers' own websites including:
Faster load times,
zoom features while viewing high resolution photos,
auto-play videos that "come alive" while scrolling,
interactive maps,
audio captions, and
like and comment features within individual parts of an article.
"As more people get their news on mobile devices, we want to make the experience faster and richer on Facebook," Facebook product manager Michael Reckhow wrote on the company blog.
"People share a lot of articles on Facebook, particularly on our mobile app. To date, however, these stories take an average of eight seconds to load, by far the slowest single content type on Facebook. Instant Articles makes the reading experience as much as ten times faster than standard mobile web articles."
Publishers will be able to place their own advertising into their Instant Articles and receive 100% of the revenue. If the inventory is unsold, Facebook will fill it and keep 30%.
Facebook will also share data and traffic information through comScore and other analytics tools.
What people are saying about Instant Articles
The New York Times has been careful to point out to various media outlets that it is treating this partnership as merely an "experiment".
Mark Thompson, president and CEO of The New York Times Company said:
"The New York Times already has a significant and growing audience on Facebook. We're participating in Instant Articles to explore ways of growing the number of Times users on Facebook, improving their experience of our journalism and deepening their engagement."
Tony Danker, Guardian News & Media international director, said:
"The Guardian is keen to test how the new platform can provide an even more engaging experience for our readers. It is then vital that, over time, Instant Articles delivers recurring benefit for publishers, whose continued investment in original content underpins its success."
Commentator David Holmes warned on technology news website Pando that partnering with Facebook could increase risks for publishers with strong reputations, due to the social network's heavy reliance on advertising, content controls through its algorithms and its questionable ethics.
"Based on Facebook's history of promising the world to publishers, only to clamp down the vise once these news brands are fully reliant on the platform for traffic, journalistic institutions may want to exercise caution in striking these content distribution deals with Facebook."
Peter Kafka similarly wrote on technology news and analysis website Re/Code that publishers should "Hope Facebook continues to use its enormous power to help, not hurt them. And that it doesn't change the rules someday".
Ad formats
The Wall Street Journal has detailed the ad guidelines for placements in Instant Articles through publishers.
But it points out that some publishers, such as BuzzFeed, will run their own custom ads inside the articles.
For every 500 words of content, brands can place:
One large banner ad either 320x250px or 300x250px, or
two small banner ads either 320×50 or 300×50.
Four ads per article will be the maximum, including a maximum of two small banners. No ads will be allowed 'above the fold', and autoplay on videos will be banned.