'Restaurant Australia' gets its own TV Show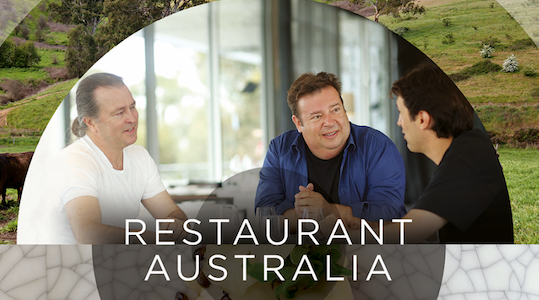 As the next step in the 'Restaurant Australia' campaign, Tourism Australia have partnered with The Precinct Studios to create a Restaurant Australia TV Series.
Chefs Neil Perry, Ben Shewry and Peter Gilmore will work together sourcing produce from around the country to create an Australian menu in the hopes of impressing critics including A. A. Gill, Heston Blumenthal and Alice Waters.
RELATED: New Tourism Aus campaign recruits food and wine businesses for 'Restaurant Australia' »
Restaurant Australia is an original three part television series and will document the creation of the menu. The Precinct Studios creative director Michelle Galluzzo says they are looking to tell a story about food, people and passion.
"This series is as much about people as it is about food. When you bring together some of the most passionate and talented chefs, farmers, winemakers and artisans from across the country, you end up with a story that extends far beyond the plate," Galluzzo says.
The series is an extension of Tourism Australia's 'Invite the World to Dinner' event at the Museum of Old and New Art (MONA) in Tasmania last November. The event hosted 80 media and food and wine experts from around the globe and took them on a week-long trip through different parts of the country sampling food, wine and beverage tourism experiences that each state has to offer before the dinner at MONA.
Tourism Australia CMO Lisa Ronson says Restaurant Australia will give an insight to what the 'Invite the World to Dinner' event was showcasing.
"When people see these three episodes they'll see just what an incredible undertaking the 'Invite the World to Dinner' event in Tasmania really was, and get a much better appreciation of the people, the produce and places which make Australia such an exciting food and wine destination for international travellers," Ronson says.
RELATED: Tourism Australia enlists David Attenborough to promote Great Barrier Reef »
The Precinct Studios is a production company who work with brands to connect with their audience either through ad campaings, TV shows, branded content and events. The studio was a finalist for the 'Best Lifestyle Series' at the World Media Festival 2012 with My Sri Lanka with Peter Kuruvita.
The first episode will air Sunday 16 August on 7TWO at 6:30pm.