Smartphone primary device for 68%, social the 'crack driving addiction'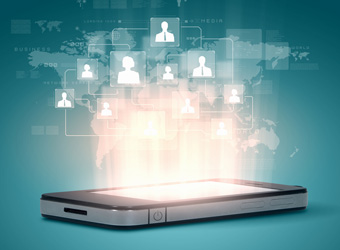 It's time to forget the 'second screen' and focus on mobile, with social the "crack that drives mobile addiction", marketers were told at a breakfast conference hosted by a group of WPP agencies yesterday.
Smartphone users dedicate an average of 34% of their media time to the device, in a series of small chunks typically around three minutes in length, research from TNS presented at the 'DNA://13′ event found.
These snack-sized sessions deliver a highly engaged audience, prompting executive director at TNS, Jonathan Sinton, to question the value of longer session on a desktop versus a shorter, more immersive experience on mobile.
"On PCs you tend to see people sit down and use the PC in big chunks of time, so it might be an hour or half an hour in one go. On mobile, it's very small chunks… typically it's very close to that moment of truth – the point of purchase.
"It really is a question of what's better: is it 20 minutes of time on your site via a PC or three minutes of time on your site via a mobile?"
Findings from TNS' 'Mobile Life' study, conducted in January, illustrate most people are now comfortable using their mobile phone for a wide range of tasks. One in two (53%) smartphone owners access social media, 58% play games, 68% access the mobile web and 45% watch video.
It's not just a substitute device now, it is a primary device, Sinton said. "68% of people in Australia are using the mobile as their primary technology device.
"The crack that drives mobile addiction is undoubtedly social," Sinton added, revealing that 53% of smartphone owners check social networks via their mobile, as often as hourly among frequent users, although many new smartphone users aren't driven by social.
One of the highest growth areas over the past year was watching video on mobile, which shot up to 45% of smartphone users from 11% a couple of years ago. Bite-sized chunks, not longer formats like TV shows, dominate and videos are often watched in the home, despite the presence of the TV, as users stumble on clips. "This creates opportunities for marketers, not just for pre-roll ads, but also for demonstration videos, reviews of products… but remember it's bite sized chunks," Sinton advised.
Mobile Life also found women have become the queens of mobile gaming, with 61% gaming on their phones compared to 54% of men.
In terms of commerce related activity, the 'showrooming' trend (consumers checking out products in store to buy online) continues to boom, up to 46% of smartphone owners, from 30% in 2012 and 9% in 2011.
The completion of actual transactions via mobile however is still much lower, at 21%, while 31% research products and services on their phones. The use of QR codes continues to flounder with virtually no growth in the past year to remain at 21%. 46% of smartphone owners still don't know what QR codes, lending weight to arguments that short code calls to action are more effective.
Sinton however still believes in QR codes, calling them a 'sign post' that says 'go online to find out more', but in the absence of efforts to promote them and educated people on how to use them they continue to languish as a marketing tool.
Conducted in January among around 1000 Australians, TNS' global 'Mobile Life' study places smartphone penetration at 66% of Australian adults, one of the highest measured across the 43 countries covered in the research. One in three Australian households now own tablets.