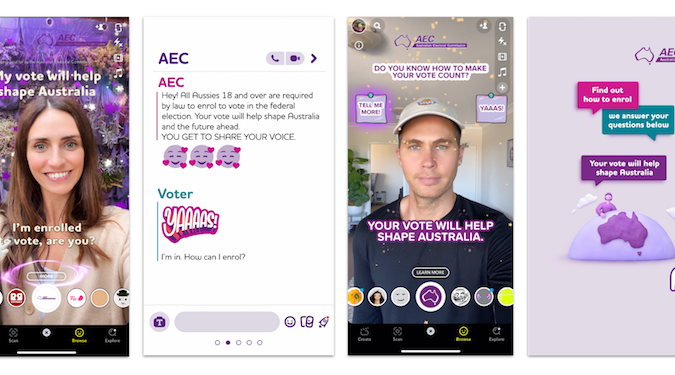 The Federal Election is just over a month away. To help out millennials who are politically engaged but voting for the first time, the AEC has partnered with Snapchat. 
Embracing the many capabilities of the Snapchat camera, the campaign will be fully integrated. It includes a new augmented reality (AR) lens, filters and in-app video series. The campaign has been designed to educate and engage with younger voters.
APAC general manager of Snap Inc, Kathryn Carter, spoke about the partnership. "We reach millions of young Australians everyday on Snapchat. Many are politically engaged but are voting for the first time," Carter says. 
"Using the power of the Snapchat camera, we've partnered with the AEC to ensure young Australians have all the information they need to vote confidently in this election. Tapping into the educational capabilities of AR we've made the content highly shareable. The campaign has been designed to share with friends so Snapchatters can encourage one another to get involved and start a discussion about the upcoming election."
Some of the integrations and parts of the campaign include.
Quizzing knowledge 
Snap has built a new lens. The Quiz Lens enables Snapchatters to find out about voting. How old they need to be, how to make their vote count, and assists them in checking their enrolment status.
Encouraging others to dial up democracy 
Snap has made a filter that reads "My vote will help shape Australia". A simple message, it has been written and designed to encourage other users to get out there and vote. 
Video series 
An in-app video series that helps drive voter education and enrolment. The series is split into three short episodes that explains how to enrol, why voting is important, and how to correctly fill in ballot papers.