Social State of Origin: Interstate social media rivalries
Marketers have been warned to tailor their social media strategies to the location they're targeting, with new data revealing social networking behaviour varies from State to State.
While Facebook is used almost universally by all social network users, Twitter is barely used at all in some States, while LinkedIn and Google+ proved surprisingly popular in certain parts of the country, according to the Yellow Social Media Report published by Sensis and AIMIA.
Commenting on the results, CEO of AIMIA, John Butterworth, counsels brands against adopting a one-size-fits-all approach for the different markets they operate in, advocating a more localised approach.
"It sounds like a lot of work, but you could argue that if you really want to crack this, that's what you've got to do," Butterworth says. "I'm hoping we will start to see more and more getting away from a centralised one-size fits all approach and start to make use of behaviours at the local level."
The study, conducted with a nationally representative sample of 1016 Australians, found that 62% of the national population are social network users, a statistic that swells to 70% in Victoria and 71% in the Northern Territory.
Usage patterns and the sites used were found to differ across the country. Twitter is most popular in the ACT, where its reach is one-quarter of the population. The micro-blogging network also experiences strong usage in NSW and Victoria, but has very few members in Western Australia and Tasmania.
LinkedIn use is most prevalent in the New South Wales and Victoria, where around one in four and one in five respectively are members of the service. Elsewhere in the country, membership to the business networking site does not exceed 8% of the population.
Google+ has achieved a reach of 8% of the national population, since its launch last year, and is most popular in Tasmania and the ACT. Facebook is the only social network to achieve universal uptake, with near 100% usage in each State.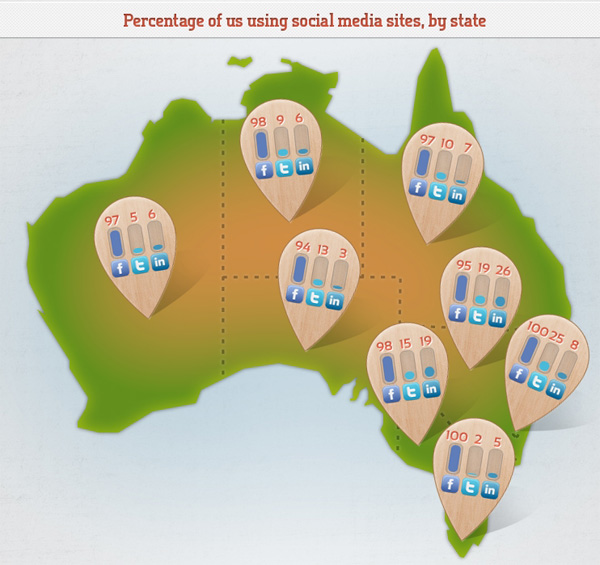 The study also found that 68% of social media users read online reviews before purchasing and that they read an average number of five reviews before making a purchasing decision. Butterworth says the influence of online reviews works for both online and offline retailers, making social commerce equally important to both groups. "The results go a long way to demonstrate the power of social media in terms of influencing behaviour… whether you've got an online capability or not, social media is very important."