The 10 best Christmas branded content campaigns of 2015
It's the most wonderful time of the year… for retailers and brands. The festive season is here and that means the annual barrage of tinsel-soaked advertising is upon us. 
'Tis the season for brands of every shape and size to bring tidings of comfort and joy, while gently nudging us into the stores to spend more money in the spirit of everyone's favourite commercial holiday.
It just wouldn't be Christmas without the advertising, which has become an event, much like the Super Bowl, as brands battle to create work that is meaningful and memorable.
Here are Branded Arts Review picks of the best Christmas ads and branded entertainment projects for Christmas 2015. 
10. Bulgari: 'The Sparkling Bulgari Roman Holiday'
Proving Christmas branded entertainment doesn't have to be an ad or online film, Luxury jewellery brand Bulgari created a festive branded experience. 'The Sparkling Bulgari Roman Holiday', which is being hosted in Hong Kong, aims to recreate the magic of an Italian Christmas, complete with a 14 metre tall light installation of the brand's iconic Bulgari Serpenti necklace, made from more than 50,000 LED lights. This is a beautiful experience that creates a little Christmas magic and will no doubt help to sell some sparkly gifts.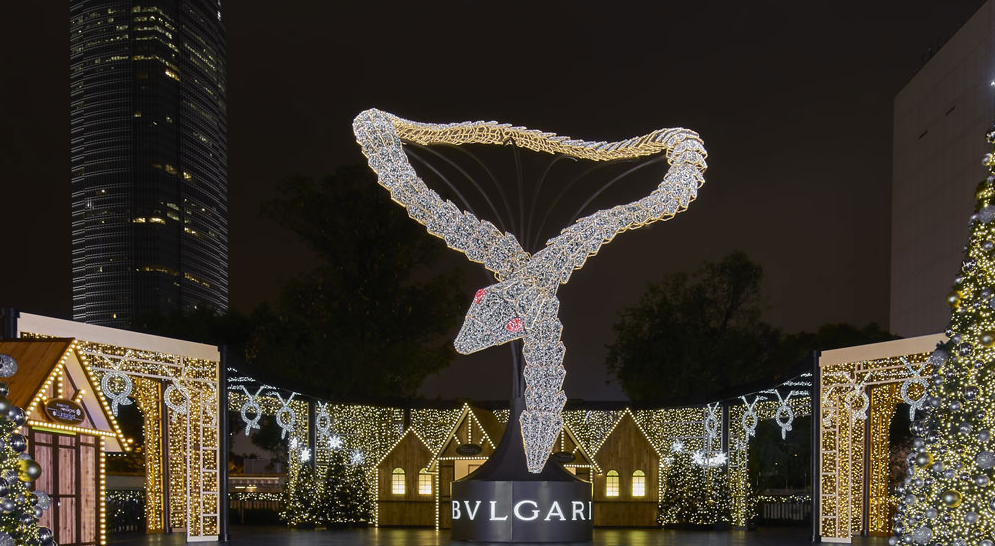 9. Mercedes Benz: 'Elf Driving'
Mercedes-Benz is ringing in the holidays with what the company is calling its "most exciting and innovative vehicle yet: the world's first elf-driving automobile." 'Elf Driving' is a fun tongue-in-cheek Christmas film from the luxury car brand, which is reported to be leading the industry with the self-driving technology. These sorts of parody films have been done to death, however, this is a cute idea, well executed and guaranteed to deliver some warmth to the brand this Christmas.
8. Burberry: 'The Burberry Festive Film'
Burberry has created a beautiful, if slightly baffling, Christmas film which celebrates 15 years of Billy Elliot. While I'm not entirely sure what Billy Elliot has to do with Christmas, I'm not sure I care. The very un-Christmassy film features a host of British celebrities such as Elton John, Julie Walters and Naomi Campbell bouncing around in Burberry gear. The film serves as a tribute to all that is British, which obviously Billy Elliot is, as is Burberry. It is simple but effective and a superb example of the power of a great piece of music.
7. Warburtons: 'The Giant Crumpet Show'
UK bread brand Warburtons has nailed the silly part of 'silly season' with a nostalgic Christmas ad.  The Muppets appear in full ensemble with gags and songs to boot. While the main gist appears to be that someone worked out you could replace the word 'Muppet' with 'Crumpet', I'm not sure the audience will care. It's fun, silly and effective. I wanted to sit down and watch the Muppet's with a giant crumpet. Job, done.
6. Stella Artois: 'Under the Stars'
Stella Artois took to the night skies in a unique collaboration with John Legend, who composed and recorded an exclusive track as part of the brand's 'Give Beautifully' Christmas campaign. Legend worked with an astrophysicist to create the 'celestial duet', called Under the Stars, which uses the sounds created by the vibrations of stars. Stella is giving the exclusive track to customers as a gift ensuring this magical project goes much further than an ad. Stella has found a superb way to engage with people and give a beautiful gift for Christmas.
5. Sainsbury's: 'Mog's Christmas Calamity'
After its controversial Christmas film last year, Sainsbury's played it very safe this Christmas with an animated film for the whole family. The UK supermarket teamed with Children's author Judith Kerr to create Mog's Christmas Calamity featuring the much loved character from children's books in a new Christmas tale. Sainsbury's is looking to entertain the young ones while tapping into the nostalgia of older viewers who grew up with Kerr's books. It's heavy of the warm and fuzzies and a sweet little film.
4. Apple: Someday at Christmas
Apple has delivered one of the best Christmas gifts possible, and it isn't longer battery life in the iPhone, with the release of its Christmas ad. The ad features Stevie Wonder performing his 1967 classic holiday hit 'Someday at Christmas' along with Andra Day. I repeat Stevie Wonder performing 'Someday at Christmas'. It's magical and brimming with Christmas spirit. Put your cynicism about Apple to one side for a moment and just enjoy the music, it's Christmas after all.
3. Edeka: 'Heimkommen'
It's depressing, manipulative and it might just be one of the best Christmas ads you'll ever see, or the worst, depending on your take of it. This polarising ad by German supermarket chain Edeka tells the story of a family's journey home at Christmas time. This film is far from the usual Christmas homecoming ad and it has been panned and praised in equal measures. The strong response is driven by the emotional journey it takes the viewer on, and the lashings of guilt it delivers. I think that's what makes it the perfect Christmas ad, because it wouldn't be Christmas without a family reunion served up with a side order of guilt, right? Merry Christmas!
2. John Lewis: 'The Man on the Moon'
Beaten out of the top spot by very tough competition, this year's superb Christmas creation by UK department store John Lewis, would have been a deserving winner in any other year. The season's most anticipated film did not disappoint with a heart-warming film about a little girl and the 'Man on The Moon'. It's an emotional and magical story about loneliness and the spirit of giving at Christmas. John Lewis went one further this year, donating proceeds from campaign-themed sales to Age UK to drive awareness and support for Britain's older people who can be particularly isolated at Christmas time. A beautiful piece of work and with over 20 million views another superb hit for John Lewis.
1. Spanish National Lottery: 'Justino'
This Pixar-style animated commercial will warm your heart and bring tears to your eyes. The online film follows Justino, a night watchman at a mannequin factory who overcomes his lonely job by placing the figurines in funny positions to amuse his daytime colleagues. The Spanish Christmas lottery (Loteria de Navidad) is a big deal and its Christmas advert has become an anticipated event, much like John Lewis. Forget that this is and ad for the lottery and ultimately promotes gambling and also ignore that the story is somewhat predictable, this is a beautiful heart-warming piece of film that will warm the cockles of your heart. The perfect message for Christmas.