The most talked about things on Facebook in 2013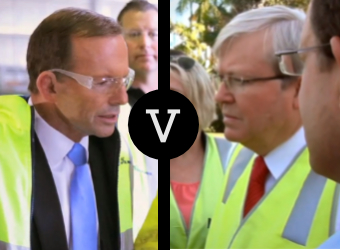 2012 was all about One Direction, Big Brother, The Voice, The Hunger Games, Fifty Shades of Grey and Gangnam Style. But in 2013, Big Brother was the only highly buzzed about TV show remaining at the top of the Australia conscience, just squeezing in at number 10, while the federal election took all the attention.
Facebook has released lists of the most 'buzzed about' topics from 2013 from Australia and around the world and it seems the election, sport and the royal family dominated the top 10 most talked about terms by Aussies on Facebook in 2013.
Five of the top 10 issues biggest issues discussed on Facebook this year were politically related with the word 'vote' topping the list overall. During the election campaign, there were over 12 million election-related mentions during campaign and over one million posts on Facebook on election day relating to voting.
On election day itself, the term 'vote' started trending at 7am, just before polls opened, and spiked at 10am during the day, and again at 10pm with over 60,000 at that time, as Tony Abbott delivered his victory speech.
Sport continues to be a favourite topic amongst Australians with the cricket, the grand finals and the Lions all making the list. Last year, only the Olympics and the Swans winning the AFL Grand Final made the cut.
The birth of the royal baby and Princess Kate were the second most buzzed about terms by Australians on Facebook. The arrival of Prince George saw over 19 million related mentions on Facebook and Australia was the fifth country discussing it, after Great Britain, the US, Canada and Italy.
Check out the rest of the lists here:
Global top 10 topics
Pope Francis
Election
Royal Baby
Typhoon
Margaret Thatcher
Harlem Shake
Miley Cyrus
Boston Marathon
Tour de France
Nelson Mandela
Top 10 Australian topics
Vote
Princess Kate
Cricket
Kevin Rudd
Grand final
Election
GST
Lions
Tony Abbott
Big Brother
Australians' major life events
Added a relationship, got engaged or got married
Travelled
Moved
Ended a relationship
Added a family member, had a baby, expecting a baby
First met
Got a pet
Lost a loved one
Got a piercing
Quit a habit
Listed themselves as an organ donor
Bought a car
Got a new hobby
Achieved something new
Retired
Global check-ins
Disneyland
Siam Paragon
Times Square NYC
Central Plaza Ladphrao
Disney California Adventure
CentralWorld
The O2
Epcot – Walk Disney World
Dodger Staidum
AT&T Park
Australian check-ins 
MCG
Crown Melbourne
Rod Laver Arena, Melbourne
Etihad Stadium, Melbourne
Darling Harbour, Sydney
Sydney Opera House, Sydney
Dreamworld Australia, Gold Coast
The Star, Sydney
Bondi Beach, Sydney
ANZ Stadium, Sydney
Sport (Australia) 
Cricket
Grand final
Lions
Roosters
Rugby
Essendon
NRL
V8
Wallabies
Socceroos
Public figures (Australia) 
Princess Kate
Kevin Rudd
Tony Abbott
Julia Gillard
Miranda Kerr
Political Issues (Australia) 
GST
Asylum seekers
NBN
Gay Marriage
Immigration
Entertainment
Big Brother
The Voice
One Direction
Breaking Bad
Beyoncé