Three tips for more engaging webinars guaranteed to generate and nurture leads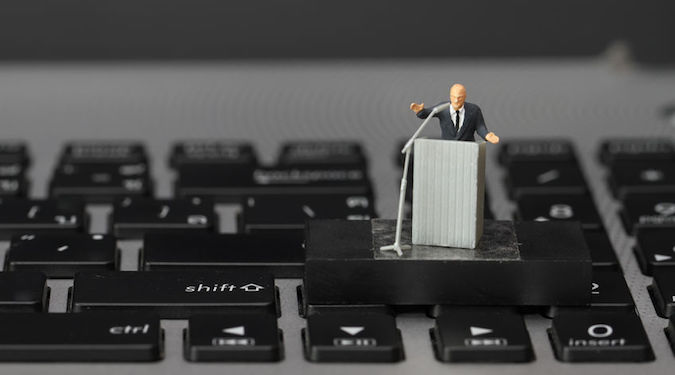 Webinars are an ideal method for lead engagement and nurturing. Here are three ways to maximise their effectiveness.
Sponsored content: this article was sponsored by ON24 to let readers know about its Webinar World event »
A great percentage of B2B marketers agree webinars are an effective method for generating leads and nurturing them through the sales funnel. According to a benchmark study, 73% of marketers say webinars are their most effective tactic for generating qualified sales leads, and a further 65% believe webinars are the most effective way to influence leads in mid and late stages of their funnel.
'2015 Benchmark Study: What's working in demand generation?' demonstrates that as prospects increasingly self-educate through the buying cycle, webinars are becoming a primary source of information that buyers turn to before making purchase decisions.
So how can you ensure your webinars are maximising engagement and generating and nurturing leads more effectively?
Match webinar content to each stage of the buying cycle
If designed with the buying cycle in mind, webinars can be an extremely effective method for moving prospects from one stage to the next.
It's key to deliver the right type of webinar content at the right time. While product demonstration type content is appropriate for bottom-of-funnel stages, it will not work well for top-of-funnel lead generation, for example.
Providing related social media content in a webinar also accelerates movement through the cycle.
Use interactive webinars to drive engagement
One of the main reasons that webinars successfully influence prospects in the buying cycle is their ability to capture a viewer's attention for a significant period of time. Email sends and website views may only capture their attention for a few minutes, if at all. An average webinar viewer, on the other hand, spends 56 minutes engaging, according to benchmark data.
Allowing users to 'personalise' their experience is the key to hosting more engaging and interactive webinars.
A good webinar platform will allow viewers to open and close information panels, access social media, respond to surveys, view resources and network with other participants.
Today's webinars need to provide engaging content and interactive features to keep viewers' attention and discourage their tendency to multitask.
"Today's consumers have been conditioned to expect highly personalised, engaging experiences when interacting with brands," says VP and managing director Asia-Pacific at ON24 Michael Savanis.
"The companies who are able to deliver on consumers' expectations by truly utilising data to provide outstanding CX are winning. One of the best ways to do this is via data-driven webinar marketing," he says.
Integrate your webinar and marketing automation platforms
By capturing your customers' webinar activity in your marketing automation platform, you can further tailor your communications with them.
It will allow you to identify sales-ready leads in real time and follow up immediately with a well-targeted message.
On the back of a successful San Francisco event, Webinar World will be Australia's first-ever webinar marketing conference.
Its line-up of speakers includes:
Nicholas Kontopoulos, global VP of fast growth markets marketing at SAP Hybris and regular contributor to Forbes.com,

senior global channel marketing manager for Microsoft MJ DePalma,

APAC head of content and product marketing for LinkedIn Jennifer Bunting and more.
Click for information and registration
Image copyright: everythingpossible / 123RF Stock Photo