Timeline layout boosts brand engagement
Facebook's Timeline brand page layout increases fan engagement by 14% and content engagement by 46% per post, according to research conducted by Simply Measured.
Timeline, which was activated for all brand pages on March 31, was touted as a visual showcase for brand and an improved way for consumers to interact and engage with their favorite brands.
If you're yet to master the new Timeline layout for brands, read our report on the changes announced at Facebook's Marketing Conference.
Looking at a sample of 15 early adopters of the new format, Simply Measured labels Timeline a success. Its comparison of the brand pages' interaction pre- and post-Timeline adoption show a 14% increase in fan engagement, a 46% increase in content engagement and a 65% increase in interactive content engagement (video and photo).
Despite a small sample and two brands that experienced over 150% uplift in engagement rates, the data has not been skewed by strong performers, according to CEO of Simply Measured, Adam Schoenfeld, who says the averages are weighted to measure engagement per post.
The research compared engagement across the 15 pages from January 1 to February 29 (pre-Timeline) against February 29 to March 26. Of the brands involved in the study, Livestrong, Toyota, Humane Society, and Red Bull recorded the highest increase per post.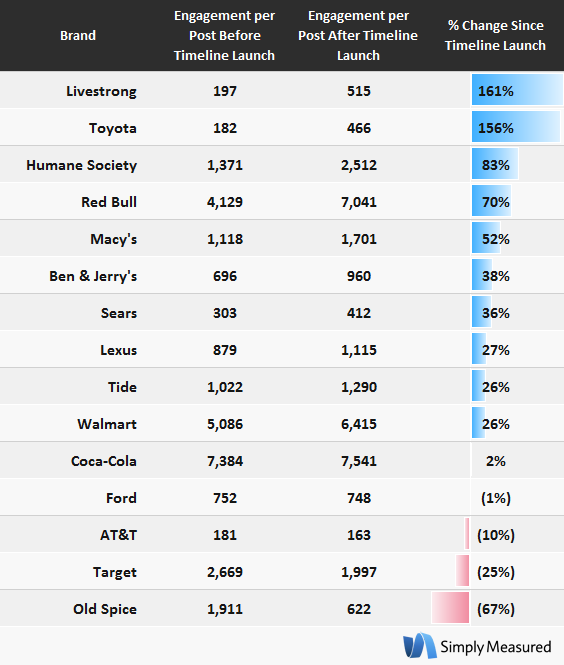 As for the type of content that was the most engaging, the study observed a decline in effectiveness of pure status updates, a small increase in engagement with links posted and significant uplift in engagement with photo and video posts.
Schoenfeld told Mashable that the larger images on Timeline and potentially the trends embodied by new social network Pinterest were leading to greater engagement with visual material.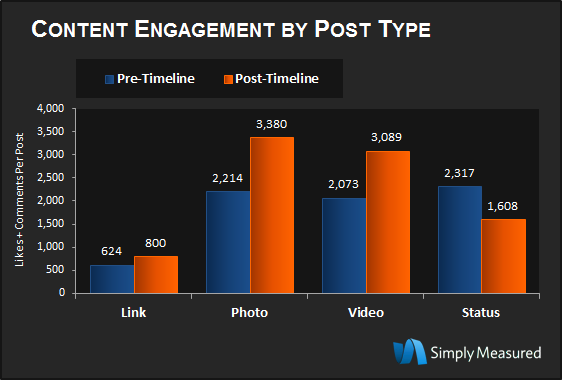 The study also highlighted the success of pinning, a new feature of Timeline that enables brands to keep featured content at the top of their page. Toyota was able to maintain engagement with a post about an event they were sponsoring for ten days, enabling the brand to raise awareness about the event over a greater timeframe.