Twitter lights up during Super Bowl Sunday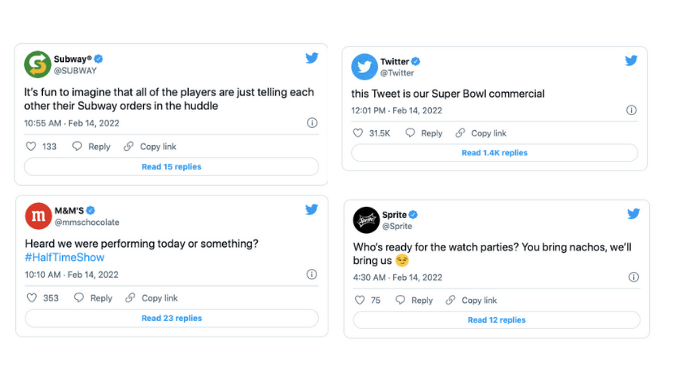 It's advertising's biggest day on the calendar. The Super Bowl ad spots cost in excess of $7 million USD, but it's also a time for brands to flex funny muscles on Twitter.
Taking to the microblogging platform, brands use Twitter to spark conversation and be part of the cultural phenomenon. Each year, social media managers across the United States and beyond use the sporting event to drum up engagement. From Oreos to Burger King and even Twitter itself, what was being said this Super Bowl?
Here's a thought: Replace the ball with an OREO cookie

— OREO Cookie (@Oreo) February 14, 2022
Yelling at the TV like you're the head coach? Maybe you just need a SNICKERS. #SuperBowl

— SNICKERS (@SNICKERS) February 14, 2022
did you see that play for the points? wow.
-tostitos community manager

— Tostitos (@Tostitos) February 14, 2022
What's the best game day snack? Asking for no particular reason whatsoever…

— Coca-Cola (@CocaCola) February 13, 2022
PIZZA​

AND​

FOOTBALL​

AND​

PIZZA​

AND​

FOOTBALL​

AND​

PIZZA​

AND​

FOOTBALL

— Domino's Pizza (@dominos) February 13, 2022
Ketchdown (noun): The celebratory ketchup dip for tonight's first touchdown.

— H.J. Heinz & Co. (@HeinzTweets) February 13, 2022
this Tweet is our Super Bowl commercial

— Twitter (@Twitter) February 14, 2022
how many french fries to cover the whole field

asking for myself

— Burger King (@BurgerKing) February 14, 2022
imagine just watching the game and not being a brand tweeting

— M&M'S (@mmschocolate) February 14, 2022
It's fun to imagine that all of the players are just telling each other their Subway orders in the huddle

— Subway® (@SUBWAY) February 13, 2022
It's the #SuperBowl but how can I make this about me?

— SKITTLES (@Skittles) February 13, 2022
Need you backstage real quick

— Pepsi (@pepsi) February 14, 2022
Who's ready for the watch parties? You bring nachos, we'll bring us

— Sprite (@Sprite) February 13, 2022