Twitter offers audio streaming through tweets in Soundcloud partnership
Twitter has partnered with Soundcloud to let users listen to music directly through tweets. The Twitter Audio Card embeds audio files into the app for iOS, Android and desktop, and users can dock it to continue listening while browsing Twitter.
Soundcloud is the first third party streaming service to partner with Twitter for this new offering. Twitter users already on board to use the Audio Card include The Washington Post, musician David Guetta and Chance the Rapper.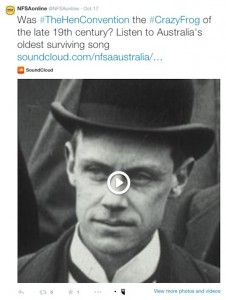 Australia's National Film and Sound Archive (NFSA) is launching the new technology locally by posting historic sound recordings to its Twitter timeline.
It's tweets have included the oldest known sound recording in Australia, a song called 'The Hen Convention' recorded by Thomas Rome in 1896, an ode to racing legend Phar Lap by Jack Mumsdaine from 1932, and an interview with The Beatles by Binny Lum from 1964.
NFSA CEO Michael Loebenstein says the technology allows a wider audience to discover the archive's huge sound collection.
"We're excited to be part of the global launch of Twitter's new tool for sharing audio files. As Australia's 'living archive' we are the custodians of the nation's audio-visual heritage, and we firmly believe in the potential of digital tools such as Twitter to reach a wide and varied audience."
Twitter says it plans to make the Audio Card available to further partners in the future, including musical artists, brands and other content creators.
This week Twitter also launched advertising to service SMEs in Australia.