The Zuckerberg Manifesto: Facebook's lofty global community goals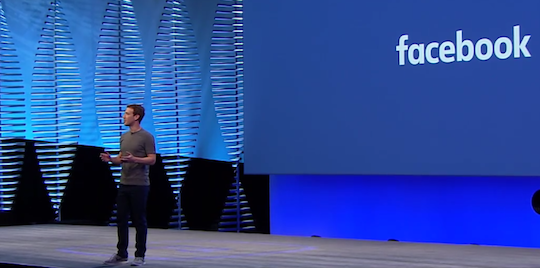 Mark Zuckerberg's 'Building Global Community' outlines Facebook's future goals.
Facebook founder Mark Zuckerberg (pictured at last year's F8 event) has written 'Building Global Community', a 6000-word message to the Facebook community.
The article addresses many concerns which Facebook has faced in recent times such as fake news.
"For the past decade, Facebook has focused on connecting friends and families," he says. "With that foundation, our next focus will be developing the social infrastructure for community – for supporting us, for keeping us sage, for informing us, for civic engagement, and for the inclusion of all.
The article ponders five points:
How Facebook will "help people build supportive communities that strengthen traditions in a world where membership in these institutes is declining,"
how it will "help people build a safe community that prevents harm, helps during crises and rebuilds afterwards in a world where anyone across the world can have an effect,"
how to "help people build an informed community that exposes us to new ideas and builds common understanding in a world where every person has a voice,"
how it will "help people build a civically-engage community in a world where participation in voting sometimes includes less than half our population," and
how it will "help people build an inclusive community that reflects [its] collective values and common humanity from local to global levels, spanning cultures, nations and regions in a world with few examples of global communities."
Zuckerberg addresses many concerns of the past year, particularly in the 'informed community' section of the essay, saying: "the two most discussed concerns this past year were about diversity of viewpoints we see (filter bubbles) and accuracy of information (fake news)."
Zuckerberg and Facebook, previously washing their hands of responsibility for these issues and arguing that Facebook was merely a social network which had little control of what its users posted, have since introduced systems to encourage fair and factual reporting.
As for the filter bubbles and fake news, Zuckerberg continues "I worry about these and we have studied them extensively, but I also worry there are even more powerful effects we must mitigate around sensationalism and polarisation leading to a loss of common understanding."
Social media, says Zuckerberg, with its open public forum focus, will always provide a more diverse range of viewpoints, political and otherwise, than traditional media – "getting our news from the same two or three TV networks or reading the same newspapers with their consistent editorial views" – ever possibly could.
Critics have cautioned that "his goals are lofty, sometimes even grandiose," says Ars Technica's Annalee Newitz. "The problem is a fundamental contradiction built into the way he hopes to create what he calls a 'global community' by essentially gerrymandering the internet."
There are also privacy issues – Zuckerberg mentions AI systems which will track posts to look for security and safety early signals. An article in The Independent points out that an earlier version of the letter supplied to media organisations stated:
"The long term promise of AI is that in addition to identifying risks more quickly and accurately than would have already happened, it may also identify risks that nobody would have flagged at all — including terrorists planning attacks using private channels, people bullying someone too afraid to report it themselves, and other issues both local and global. It will take many years to develop these systems."
But this information has been removed from the text of the version published on Facebook, replaced with the less specific:
"Looking ahead, one of our greatest opportunities to keep people safe is building artificial intelligence to understand more quickly and accurately what is happening across our community."
Other criticisms have said Zuckerberg's getting too political with his message, and others still say he's not getting political enough.