AFL club Giants recognised at multicultural marketing awards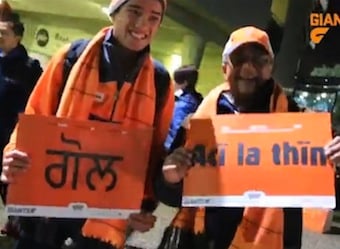 Western Sydney AFL team the GWS Giants Football Club has been named as winner of the Big Business Award at the Australian Multicultural Marketing Awards (AMMA) for its success in selling the Australian game to migrant communities.
Also recognised was the Chinese Precinct of Commerce, which was winner of the Communities Category for a campaign to motivate and enthuse members of the Chinese Australian community to embrace celebrations for the Anzac Centenary in 2015.
The Fifth Bankstown Islamic Charity Projects Association (ICPA) Scout Group was chosen from 18 other AMMA finalists to take out the SBS People's Choice. The Scout group promotes social cohesion through education activities and services to the young Muslim community.
The Minister for Citizenship and Communities, Victor Dominello, announced the award for the GWS Giants last night at a gala reception at the Sydney Opera House. "The Giants accepted the challenge of launching a new football team for a strictly established Aussie code in an area of high concentration of new Australians. What they achieved has turned that potential disadvantage into a super-success story.
"The Multicultural Round of the AFL played at Sydney Olympic Park on 19 July, which was dedicated to acknowledging and celebrating cultural diversity, was a full-on multicultural carnival, topped off with a formal citizenship ceremony for 54 new Australian Citizens on the field at half-time. In a thoughtful welcoming gesture the new citizens were presented with membership of the football club.
"I congratulate the Giants on their achievement in raising the bar on multicultural practice, diversity, harmony and inclusion in Western Sydney.
"The AFL and Greater Western Sydney Giants have a strong commitment to diversity and raising awareness of the game in multicultural communities," said GWS Giants CEO, David Matthews.
The Awards are conducted by Multicultural NSW, Hakan Harman said: "We are delighted with the response to the new format adopted for this year's Awards, now in their 25th year. Since culturally diverse is who we are as Australians, messaging and programs that speak to all the people of Australia are essential elements of any marketing campaign."
The winners of this year's AMMAs are:
Business Innovation: eTranslate – Employing an App to Measure the Mood of our Cultural Communities,
Big Business: GWS Giants Football Club – Many Cultures Game, Multicultural Round,
Small Business: Elegant Swallow Pty Ltd – Employing Cultural Foods as a Marketing Tool,
Public Sector: Auburn City Council – Refugee Camp In My Neighbourhood,
Communication: Cultural Perspectives – Digital Switchover Campaign,
Arts and Culture: 4A Centre for Contemporary Asian Art – Vertical Villages,
Communities: Chinese Precinct Chamber of Commerce – Chinese Community Celebrating the ANZAC Centenary,
Youth: Cultural Infusion – Cultural Harmony and Inclusion Education Programs,
Islamic Charity Projects Association – 5th Bankstown Scout Group (Certificate of Encouragement),
Education: TAFE NSW: Hunter TAFE – Beyond ESOL: A Vocational Pathways Approach (Certificate of Encouragement), and
SBS People's Choice Award: Islamic Charity Projects Association – 5th Bankstown Scout Group.