Case Study: how automation supported Bakers Delight's marketing during lockdown
This case study explores how Bakers Delight was able to ensure a quick response to changing regulations during COVID-19, with on-brand automation at scale for all of its franchisees.
Background & Objectives
Bakers Delight has 525 stores across the country. It's a well-known brand in its sector and sits behind the Coles/Woolies duopoly, with around 15-16 percent market share.
The franchise business was processing around 2 million transactions before lockdown. Last year the 'local marketing' (LM) team was under severe pressure, with franchisees demanding 1800+ individual art and design requests a year for in-store materials. The team was going to have to grow by 50 percent to keep up. But instead of bringing on more internal resources, the group marketing manager decided to bring on a brand management platform.
Outfit was chosen to help automate a lot of the creative production needs and free up time for the team to proactively help support franchisees, rather than being stuck with reactive demands.
The implementation of templates for franchisees proved vital in being able to respond on-brand and at scale to the COVID-19 crisis.
Strategy
When everything first started to close for lockdown, the senior leadership team created a Virus Management Team (VMT), comprising the head of each department (supply chain, corporate communications, marketing, operations, information services, HR, CFO and both CEOs).
This core group met to discuss what was happening in the business, in the world, and how to  best deal with it for customers. After these sessions, the department heads would break away and implement this strategy and regroup 24 hours later to report on how it went. This process has been in place since lockdown and will be rebranded and remain part of the business in the coming months.
Execution
For the marketing team, disseminating information and materials to franchisees was paramount. As you may expect, this included social distancing guidelines to display in-store. Two new campaigns were rolled out over an eight week period. The templates that were created on Outfit allowed the team to get the materials out to the network quickly and efficiently.
But this also meant changing a lot of the operational procedure. After lockdown the decision was taken to package the loaves of bread and have them pre-sliced, both of which were options for customers at POS previously. The team had to remain in constant contact with stores to ensure that they were familiar with governmental advice, on an almost daily basis. The ability to pivot in terms of what all stakeholders need to know was invaluable to the brand.
During this time, the marketing team created materials to update each of the stores on Outfit's design automation platform and was able to deliver the vital resources easily.
A WhatsApp group was created to share common questions or requests from the public. It's where the idea for protective cashier shields was first raised, and also where the first trial of these measures was coordinated.
Social media channels provided a place for Bakers Delight to communicate with customers and using automated templates the team created a number of bespoke social posts informing customers about operational changes while gleaning insights about which customer queries would need the most attention.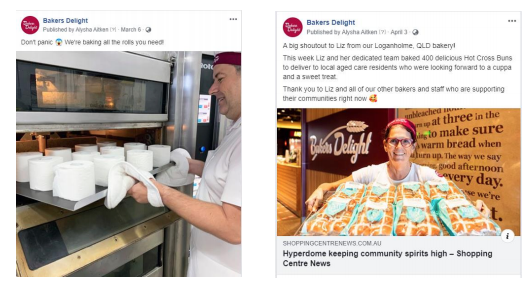 Source: Bakers Delight, example of social posts during COVID-19, the toilet roll one reaching 2 million organically
Results
The business has been fortunate to continue the growth it was experiencing prior to restrictions. The ability of the Bakers Delight business to move swiftly as lockdown laws were implemented allowed it to adapt and maintain its status as an essential service, which enabled it to continue trading while other retailers closed. While the volume of transactions have dropped, the average basket size has tripled, resulting in a small growth in revenue, during a hectic and potentially damaging time.
The marketing team is happy to report that all but four stores remained open throughout lockdown; those that closed did so based on their location in malls and CBD locations, rather than any virus related reason.
All franchisees have remained supported throughout. The marketing team thankfully was able to keep them all informed and armed with the latest updated materials via Outfit's platform. It meant that customers were kept informed and franchisees were one of the few companies that were able to remain on-brand throughout the initial lockdown stages.
Since starting to automate its brand collateral with Outfit, Bakers Delight has seen a drop of around 70 percent for bespoke art requests from franchisees. By being able to automate template designs and limit the options in each piece of creative, it's become a more manageable process for the team. It has meant that the LM team has been able to remain the same size, while providing a higher level of value-add advice for franchisees.
In short, doing more with less people.