Tesla, Lego and Neil Perry to set up shop as Chadstone unveils $660 million retail redevelopment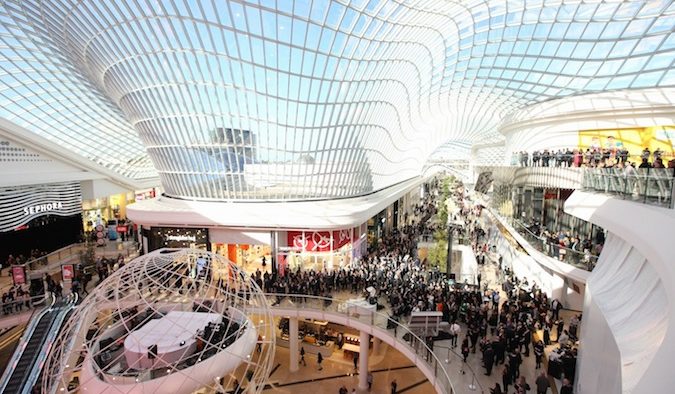 Victorian shopping centre Chadstone has launched its redeveloped offering with names like Tesla, Lego and Neil Perry coming soon.
Vicinity Centres and Gandel Group have unveiled the evolution of their co-owned shopping centre, Chadstone, with the opening of more than 60 new retail stores, two new dining precincts and a new flagship Hoyts cinema. The jewel on its crown is a unique 'gridshell' roof comprising thousands of glass panels.
The $660 million development's lofty vision is to take the south-east Melbourne shopping centre from its positioning as 'the fashion capital' to also reflect Melbourne's reputation for dining and entertainment.
The new Hoyts cinema complex will include the Hoyts Lux premium experience and spans two levels. It will feature 'Xtremescreens' with Dolby Atmos surround sound, powered recliners in each auditorium, and the new 'Eat Street' area which will include Chur Burger, Ben & Jerry's and Arties Bar & Café.
At completion of the development in mid-2017, the number of retail tenants will approach 600, and include Australia's only Legoland Discovery Centre and new flagship stores for H&M, Uniqlo and Sephora, as well as new-to-market internationals Furla, Maje, Oroton, Sandro and The Kooples.
It will also be home to the first integrated retail dealership for Tesla Motors in Melbourne. Tesla's Heath Walker explained to Marketing in November that the brand is very deliberately taking a non-traditional road in automotive marketing. "You'll see more retail based set-ups for us. You'll see like Apple-esque in regards to the store frontage, inside a retail store or stand alone one," he said in our extensive interview on the company's plan for Australia.
---
INTERVIEW: Leading the charge: Inside Tesla's quest to put Australia on the grid. Read »
---
A focus on dining and entertainment will feature the 'Dining Terrace' and 'Food Central', a 1300-seat, 20-plus tenancy food gallery. The new dining offering was designed by food consultant and managing director of Future Food Francis Loughran.
Many tenants of The Dining Terrace will be new to market or first-timers in a shopping centre or outside of Melbourne's CBD. They will include Burger Project by Neil Perry, Melbourne Mexican restaurant chain Fonda and Woodstock Pizzicheria. There will be indoor and outdoor seating, with some restaurants offering views of the Melbourne city skyline.
Food Central will seat 1300 diners and feature many names more typically associated with high streets and city laneways, such as Axil Coffee, Lord of the Fries, Royal Stacks and Sauced Pasta Bar.
Luxury French patisserie Ladurée will open its first tearoom in Melbourne in a unique elevated 'pod' structure.
The shopping centre is also introducing extended trading hours in the lead up to Christmas, opening until 9pm on Saturdays and 7pm on Sundays.