Direct from Chicago: DMA Annual Conference 2013 report
From the annual conference of the Direct Marketing Association in Chicago, Frank Chamberlin reports that with the value of consumer data reaching US$150 billion and accounting for 700,000 jobs last year, the American association may well follow ADMA's lead and change its name.
Big data gets big focus
It was 'big data' from start to finish at the annual US Direct Marketing Association (DMA) conference held in Chicago in October.
With 5000 delegates from 57 countries, it seemed there were marketers all over Chicago seeking inspiration for innovation and new approaches. And there was no doubt about the central theme. Data. There is a whisper that the DMA may follow the Australian Direct Marketing Association's lead and change its name. Although DMA doesn't stand for Data-driven Marketing Association just yet, the focus at this year's convention suggests a change may be coming.
The DMA's president and CEO, Linda Woolley, opened the conference with a brassy, high-impact, Hollywood-style presentation.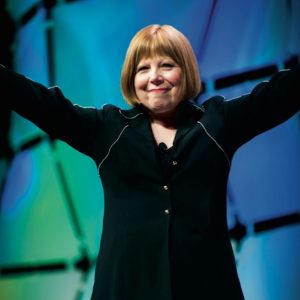 Woolley stated from the outset that big data has come to represent much more than its definition. "It is now a rallying cry for gleaning customer intelligence from varied data sources and the positive business impact that comes from understanding customer desires," she said.
"Data-driven marketing fuels business success and the economy itself. It is paramount for businesses and not-for-profits to become expert in the responsible and effective use of this incredible wealth of data," she added.
Having big data as the theme of the conference was very fitting. After all, data is the variable that changes yesterday's marketing into today's loyal customer.
It's not that we didn't have data 10 years ago. Or even five years ago. But data was not so inclusive, extensive or actionable. If you want to find people who look like your current buyers at exactly the time they are ready to make a first purchase, there is data out there to help you do just that. Plus, we now have the technology to put it right into your marketing systems to personalise your campaigns.
In her opening address, Linda Woolley asked the audience: "What do Audi, Shell, RadioShack and Mercedes-Benz all have in common?" Answer: each of them has just appointed the marketing chief to the all-important position of CEO!
"And why have they done that?" she asked. "Because these companies realise that in-depth knowledge of the customer is the key to growth."
Something for every marketer
By Australian standards, the DMA conference is the mother of all marketing conferences. In addition to non-stop presentations from practitioners, it offers a high-tempo Saturday night launch party, two-day pre-conference intensives, networking for young professionals, an international lounge for meeting marketers from around the world, an exhibition with some 300 relevant exhibitors and suppliers, a research summit for direct marketing academics and a day of post-conference certifications. If you don't get hyped by this marketing experience you are either heavily drugged or just not a marketing person.
Keep it smart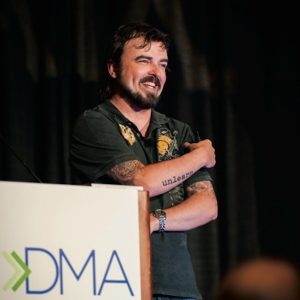 Of the hundreds of speakers over the four-day one of the more intriguing was the Canadian, Scott Stratten, president of UnMarketing (unmarketing.com). Stratten has nearly 160,000 followers on Twitter (@unmarketing) and has been named one of the top five social media world influencers by Forbes.
At the conference, Stratten stressed that data without context can be dangerous. We all know about 'how to lie with statistics' and Stratten stressed that marketers have to look for the truth behind the numbers rather than just grab what he called "all caps data".
Stratten said Google Plus claims 60 percent of its subscribers use the service every single day. "But the problem was it was not Google Plus they were using – Google Plus was counting any Google search, and that's a very different thing."
Stratten also questioned the use of QR (quick response) codes. "QR codes are fantastic, but you have to use them intelligently," he explained. "I recently received a QR code on a promotional text. It's impossible to use – unless you happen to have a second phone!"
During the conference, data-centric sessions included:
social data for multi-channel strategies
the big data ecosystem: informing effective marketing campaigns
avoiding the break-up: a data driven approach to increasing engagement and decreasing customer churn, and
understanding and activating first-party data for CRM.
Other sessions covered a multitude of practices, hot DM issues and general marketing topics including:
direct marketing fundamentals
mobile and new directions
content marketing
creative and production
psychology and marketing, and
engaging with Boomers and Gen Y.
There were also fascinating case studies, including one from Proctor & Gamble. The famous multinational consumer goods retailer has continually relied on data and insights to improve its CRM program. P&G uses it across the board: targeting, segmentation, offer management, communication approach, content, channels and ROI.
P&G has been working with big data since the 90s, but the difference today is that technology enables its marketers to go from what the average consumer wants, to what all consumers want. More touch points result in more data. But P&G keeps looking for relevance, which is the ultimate driver for interaction, better data, richer insights and more precise targeting.
Of course, at a massive conference like this in Chicago, the US may be seen as the innovation hot spot for marketing analytics, but the head of direct marketing in Australia, Jodie Sangster, pointed out that "many smaller countries, like Australia, are doing some interesting things in this space".
At an international panel at the conference where Sangster was a leading speaker, she talked about "some of the exciting things happening around disparate companies combining their data in Australia to enhance the customer experience".
"It is exciting what we can do to personalise the customer experience and to see the benefits this will hold for consumers down the track. Australia is leading the way here," she said.
"Australians may have the perception that other markets are ahead of us, particularly in data and technology, but this is not the reality. We are certainly holding our own on the global front. Being a small population means we are often more nimble and able to adapt to the changes in marketing and advertising's fortunes very quickly," Sangster explained.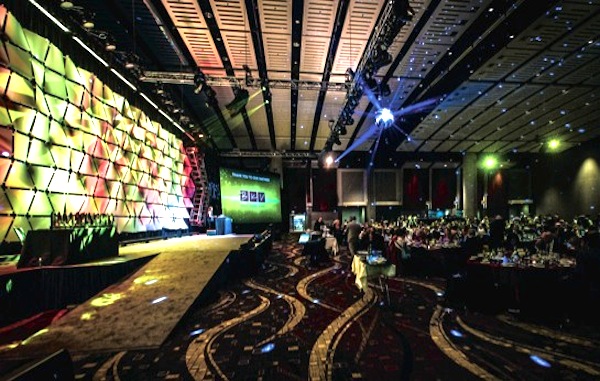 The value of data
During the conference, the DMA announced the results of a major study on the value of data.
This first-of-its-kind study was undertaken by Professors John Deighton of Harvard Business School and Peter Johnson of Columbia University. It provides the facts about the vital role of responsible data use in fuelling innovation and economic growth.
The researchers concluded that the value of data about individual US consumers accounted for more than US$150 billion last year – representing around half of all marketing communications spending.
The report, 'The Value of Data: Consequences for Insight, Innovation and Efficiency in the US Economy', also concludes that such data is responsible for almost 700,000 jobs.
What Australia's figures are is anyone's guess. But it is fair to assume that, in proportional terms, data is equally important in our market.
The study fills a significant gap in understanding about the massive changes transforming marketing and advertising – changes propelled by the growing quantity and variety of data.
Awards for the best of the best
The much coveted international Echo Awards were held during the conference, and the excitement and grandeur of the glittering awards evening did not disappoint.
The top award – the Diamond Echo – was a victory for New Zealand. It was won by Colenso BBDO/Proximity New Zealand for a campaign called 'Feel Tip Top' for client Fonterra Brands (Tip Top) Ltd. The other three special awards went to agencies from Brazil and Germany and just one of them went to a US agency.
There were a total of 90 ECHO Awards to data-driven marketing campaigns from all over the globe. Some 20 countries outside the US, including Australia and New Zealand, won awards.
Hall of Fame new members
Another highlight of the conference was the induction of three huge names into the Direct Marketing Hall of Fame. Following in the footsteps of living legends such as Stan Rapp, Herschell Gordon Lewis and Lester Wunderman, the new members are:
Seth Godin
Martha Rogers, and
Don Peppers.
Deemed perhaps direct marketing's highest honour, the announcement of the new inductees was met with rapturous enthusiasm. There was not one person at the conference who doubted the worthiness of these giant marketing contributors and innovators.
The wrap
The annual DMA conference is action-packed and well worth the effort to attend.
The specialists who lead the workshops and keynote addresses really know their stuff. They provide the opportunity to see where the industry is going and learn about the new tools and ideas taking us there.
It's the total marketing experience: the combination of cutting edge marketing technology with over the edge marketing minds.
The 2014 conference will be held from 25 October in the renowned harbour city of San Diego – less than an hour's flight from Los Angeles. Maybe now is the time to start pestering your boss to set aside budget for you to attend!