Do you find this ad racist?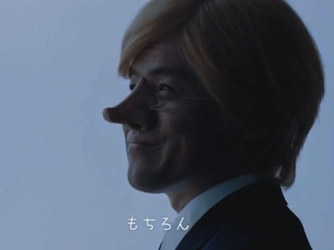 A new spot created to promote Japanese carrier All Nippon Airways (ANA) was intended to promote ANA's expanded international flight schedule from Tokyo's Haneda Airport. However, it also managed to create media shit-storm with the spot being pulled just four days after it was released for being racists.
The spot depicts two men in ANA pilot uniforms speaking, in English with Japanese subtitles, about how they will be taking the new flights to destinations such as Hanoi and Vancouver.
"Let's change the image of Japanese!" one says, and turns to his colleague, who now wears a large fake nose and a blonde wig, in line with Japanese stereotypes about Europeans.
http://youtu.be/DCjxzpSrFP4
All of the hoo-haa is around the Japanese pilot putting on the wig and the fake nose. Twitter as erupted over the past few days in relation to the spot. All Nippon Airways has apologised for the spot saying in a statement:
"The commercial was intended to be a humorous way of highlighting the increased number of international services ANA is operating from Haneda Airport. It was not our intention to cause offence and we apologise to anyone who was upset by the advertisement."
What do you think? Is the spot terribly racist or are we all getting a bit too PC?