Disruptors with a cause: the brands gaining attention without interrupting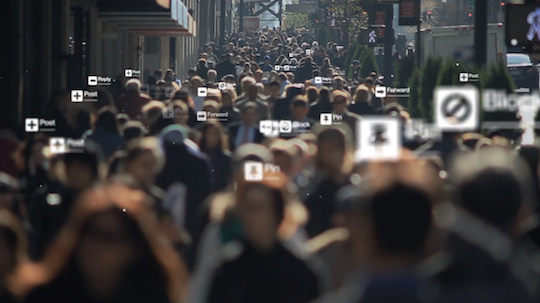 Brands that understand the value of being helpful have been able to get attention without interrupting, writes Sérgio Brodsky.
We're being media- boarded, smothered and suffocated by marketing communication – some of it valuable, most of it not. And distinguishing between the two is getting harder and harder thanks to copycat approaches and off-the-shelf campaigns.
Well-trained consumers and new anti-marketing innovations are already acting as natural selection agents, extinguishing noisy brands. For example, Brand Killer, a head mounted display that blocks brands and logos, has become a great filter against branded pollution. But the best answer to disrupt through the rubbish lies in providing useful marketing communications services, something the industry has been calling 'brand utility'.
Brand utility aims at making brands become more integral parts of people's lives as opposed to the usual transactional interactions. It's when media and creative combined make everyday life easier. Simply put, it is about making consumers feel empowered to act. An example is tyre manufacturer Michelin, which has been taking people to the world's best restaurants since 1926 with useful content aimed at increasing the demand for cars and, of course, tyres.
There is no 'brand utility guide' since disruption isn't disruptive when everyone is doing it. But the few who understand the value of being helpful to people have been able to disrupt their categories and people's attention without interrupting, but actually enhancing moments of our lives.
Two years ago, the University of Engineering and Technology of Lima/ Peru (UTEC), needed to call students' attention to the applications period. UTEC chose to do this in a way that disrupted eyeballs while simultaneously solving the problem of a lack of potable water, resulting in a service that validated the brand's commitment to sustainable development. It happened through a billboard able to absorb humidity from the air, which then provided free clean water to communities in need. In 2014 UTEC did it again, this time with air-purifying billboards, an eco-friendly answer to the construction boom in Peru.
Austrian beer Stiegl replaced the labels on its bottles with a free public transport ticket in order to curb drunk driving. In Brazil, Chevrolet's 'Rescue Drive' campaign offered free test-drives to stranded motorists, eliminating the need to visit showrooms. Nokia's motto of 'connecting people' unexpectedly began populating music festivals with silence booths, enabling festival-goers to connect with the outer world. When it comes to social media, [Dutch airline] KLM became a best-in-class example for its use of Twitter to solve its passengers' problems in real time instead of just pushing annoying promotions.
The more evolved specimens are the utility-born brands. These may have begun life with eBay, which reinvented classified ads through a digital auctioning utility. It's useful because it lets you bid what you would consider a fair price for a given item. The species was perfected by Netflix, which disrupted TV viewing by flipping the model – letting viewers chose what to watch and when to watch it. Netflix proved that people are willing to pay for things that more usefully fit into their lives. Now the rest of the industry is playing catch-up.
So, what's next?
Unsurprisingly, data has emerged as the strongest ingredient in the utility mix. Few things can be more useful than having relevant information that uncovers a key insight and drives an overarching strategy. In fact, 'market research' replaced boutique-shop creativity on Madison Avenue back in the 1970s. Today, data affects the design of products, services and, in a broader sense, experiences.
With that in mind, IBM decided to set up its Interactive Experience practice, a next-generation digital agency, consultancy and systems integrator.
According to Paul Papas, the division's global leader, experience design is about creating "irresistible experiences that are smart, individualised, trusted and valuable – all 100% dependent on the astute use of data".
And when it comes to offering a useful experience, human behaviour is emerging as a medium from which marketers can learn – to modify designs, campaigns and content, all before implementation.
In a similar vein, the territory of virtual assistants (VAs) seems to be the new gold mine for forward- thinking marketers. VAs originated from DARPA (Defence Advanced Research Projects Agency) projects in the US with the purpose of trying to find cognitive assistance that could learn from its users' behaviour to then help make their lives easier. There are several brands already representing this technology with the most famous being: Siri (Apple), Google Now (Google), Cortana (Microsoft) and the most advanced of them all, Viv (Viv Labs).
The idea is that by analysing the cross-section of existing and real- time generated data, VAs are able to learn who we are with more precision than could previously have been imagined. In this artificial intelligence process, brands can be identified and recommended in a way that optimises time, money and the user's own mental state.
According to American Express research from 2013, 63% of a total of 1600 participants had their heart rates increased when they thought they were receiving great service and, for 53% of those respondents, receiving good service prompted the same cerebral reaction as falling in love!
According to Dr Chris Brauer, director of the MSc Management of Innovation and founder of the Centre for Creative and Social Technologies in the Institute of Management Studies at Goldsmiths, University of London, the owners [and licensees] of this type of technology combining artificial intelligence and natural language is what could wipe Google off the map.
That's because, when it comes to information, organising and making it accessible is the new norm.
The paradigm shift will happen once this data is made seamlessly useful regarding the control of our health, finances, behaviour and so much more. For the sake of perspective, in the US, engineers working in this space are on million- dollar salaries… and rising, all the time.
In that sense, a smarter planet should be about interconnected systems that disrupt our whereabouts by guiding our choices to increase the likelihood of desired outcomes. The central idea is that urban media should make urban life more comfortable, efficient and easier to manage. 'U-city', short for 'ubiquitous city', is a term that has been coined by the South Korean Government in an attempt to promote an industry around the design of smart cities, which contributes to actualising the vision of 'The City as a Service'.
There is a darker, Orwellian downside to this too, which may commoditise us and see our lives reduced to data buckets. Can I use your location information even when you're not communicating with me? Can I access your photo library? Your contacts? Your wife and children? Democracy minus privacy are variables that could become part of the utility equation…
Not all brands can be funny or cool, but they all can and should be helpful.
Successful interactions are always disruptive because they stop you from doing what you're doing to do something else.
But to become a disruptor with a cause, it is of utmost importance to shift from disrupting what people are interested in to become what people are interested in.