Dramatic increase in stakeholder support for digital, but skill shortages remain: study
Skill shortages and budget constraints have stalled more advanced digital marketing implementations in Asia-Pacific, but stakeholder support for increased digital spend has grown dramatically.
The third annual 'APAC Digital Marketing Performance Dashboard' by the CMO Council and Adobe has found that Australian marketers have pulled away from their counterparts in Asia-Pacific, although advanced implementation has stalled due to gaps in skills and budgets.
Behind Australia's relative strength in the region are factors including stronger support from company leadership and having a strong digital champion in the leadership team.
This year's study also revealed that stakeholder support for digital investment has increased significantly. However, despite Australia's digital leadership in Asia-Pacific, skill shortages remain prevalent and marketers are still focused on more basic performance indicators.
Key findings from the 2014 Digital Dashboard include:
Australian marketers lead Asia-Pacific in digital marketing but advanced implementation has stalled,
52% of organisations advised that chief marketing executives own the digital marketing strategy, compared with 39% across Asia-Pacific,
62% of Australian companies have a digital champion on the leadership team, well above the Asia-Pacific average of 38%,
stakeholder support for digital is increasing: channel partners and sales teams have emerged as digital advocates across Asia-Pacific with support for increased digital spend more than doubling between 2012 (15%) and 2014 (34%),
skill levels have stalled across Asia-Pacific and while Australian marketers have reported some improvements, skill shortages remain,
the ability to better engage and activate audiences is driving the adoption of digital (81% of Australian marketers cite engagement as the key driver compared with 58% across Asia-Pacific), and
the proliferation and capability of mobile has increased as a driver of digital adoption in Australia up from 52% in 2012 to 65% in 2014.
Liz Miller, CEO of the CMO Council, says that driving the uptick in stakeholder support for digital is simple: revenue. "It's pretty plain and simple," Miller tells Marketing. "Marketing has been able to take what we used to describe in grey and fuzzy language, and we're now reporting it back to the organisation in the language of the business. That's the critical factor."
Similarly, Adobe's managing director for Australia and New Zealand, Chris Skelton says strong support from senior leadership shows Australian businesses understand the importance of digital in their organisation's transformation.
Click image to enlarge.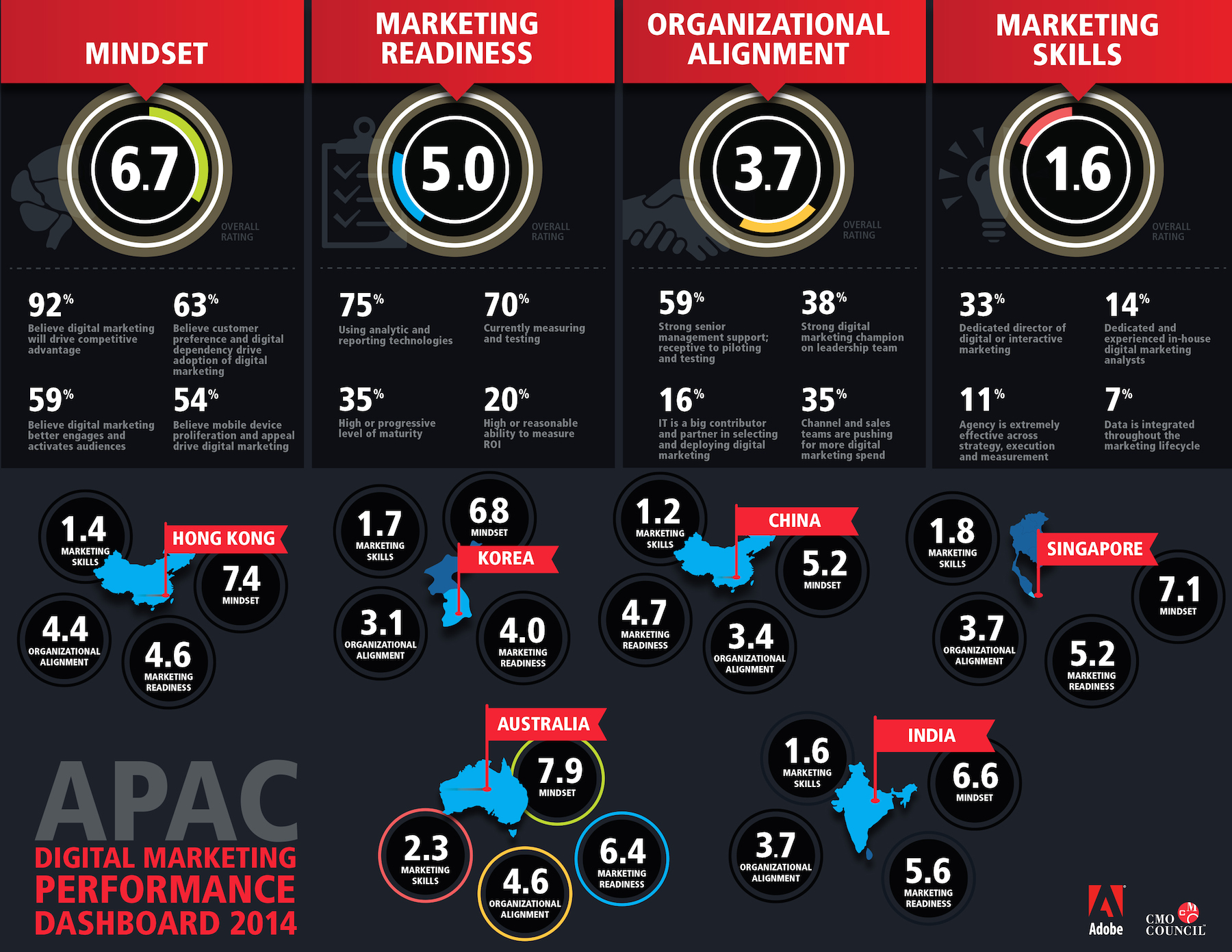 About the research: the 2014 APAC Digital Marketing Performance Dashboard was conducted by the CMO Council in partnership with Adobe. It included a six-month in-field program comprising quantitative surveys with over 800 marketing executives. The study benchmarked the levels of adoption, traction and success of digital marketing in Australia, New Zealand, China, Korea, Singapore, Hong Kong and India. Senior marketers within the Asia-Pacific region from a range of industries took part, with 44% holding a title of vice president or higher.