Gartner Magic Quadrant: digital marketing hubs compared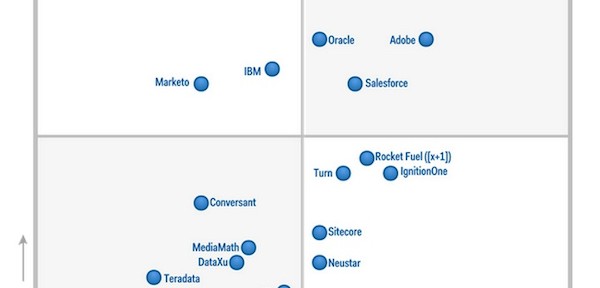 Gartner's analysis of digital marketing hub products has placed Adobe, Oracle and Salesforce in the market leader category, with IBM and Marketo as challengers with lower completeness of vision.
Gartner's Magic Quadrants are designed to help marketers to make product purchase decisions. In this analysis, it defines a digital marketing hub as software that includes audience profile data, content, workflow elements, messaging and analytics functions, and is used to optimise multichannel campaigns, conversations, experiences and data collection.
Providers included in this study have global reach and earned at least $50 million revenue and acquired at least five new customers in 2013.
The magic quadrant plots each company against the the two axes of 'completeness of vision' and 'ability to execute', based on a series of evaluation criteria.
The report, Magic Quadrant for Digital Marketing Hubs, provides strengths and cautions for each of the 16 providers featured. Here are some comments about the market leaders and challengers:
Leaders
Adobe
Strengths
Strategic vision,
focus on the marketer (adding new tools based on marketers' feedback), and
agency partnerships (including with Publicis, SAP and Accenture).
Cautions
Integration (inconsistencies remain between acquired products), and
organisational incentives (product-centric sales organisation seen as a driver of cost).
Oracle
Strengths
Depth and breadth of solutions,
versatility (nearly equivalent depth for B2B and B2C), and
intelligent orchestration (strong DMP and content marketing capabilities).
Cautions
New market ("skilled at serving the CIO, but unproven at serving the CMO"), and
integration legacy (history of limited integration and innovation).
Salesforce
Strengths
Base functionality and momentum (credibility through acquisition of ExactTarget and market leadership in CRM),
market vision, and
workflow and collaboration (intuitive UX and ongoing innovation).
Cautions
Legacy focus (push messaging orientation from ExactTarget's email marketing heritage, limited to social channels), and
customisation and data integration (seen as cumbersome).
Challengers
IBM
Strengths
Vision and market understanding,
quality of acquisitions (including Unica, Coremetrics, Silverpop and Xtify), and
global presence and vertical support.
Cautions
Holes in marketing features (lacks some key features), and
integration, cost and complexity.
Marketo
Strengths
Customer satisfaction (strong, particularly with B2B marketers),
intelligent orchestration (near best for email and mobile marketing capabilities), and
partners and app exchange.
Cautions
Performance limitations (regarding scalability), and
third-party dependencies (partnership strategy, while a benefit, lacks strong native support).
On top of the 16 companies examined in detail, Gartner has also provided the following list of vendors to watch:
Acxiom,
Cake,
eBay Enterprise,
HubSpot,
Kenshoo,
Marin Software,
RedPoint,
SAP,
SAS,
Tealium, and
Webtrends.