Gillette Body razor prompts male body grooming trend with influential online ad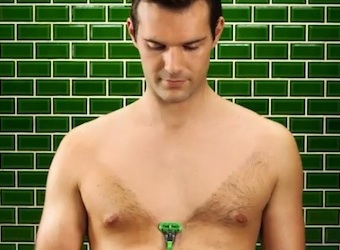 Shaving brand Gillette is spearheading an apparent trend of male body grooming with its new Gillette Body razor and online ad showing body shaving as the latest fashion.
The new '100 Years of Hair' video online ad takes a visual journey through men's grooming fashions, from bushy beards to greasy moustaches and finishing with a fully shaved chest. The highly produced video, which promotes the new Gillette Body razor, has already received nearly 3 million views in less than a week.
In February the brand released a series of how-to videos on YouTube teaching men to shave their chest, back, head, armpits and groin using Gillette products.
Procter & Gamble Gillette global marketing director Francesco Tortora said the new male body shaving product was specifically built for "the terrain below a man's neck".
Attributes include a rounded head, three lubricating strips, an anti-slip grip, three floating blades and a forward-pivoting head.
"Just as fashion constantly evolves, we constantly refine and engineer our precision products to help men feel and look their best. We are proud to offer a precision tool designed to give men an edge in keeping up with the times," Tortora said.
Shaving products rival Schick has so far shown no sign of catching onto the male body shaving trend.