Holden is one piece in GM's global restructuring puzzle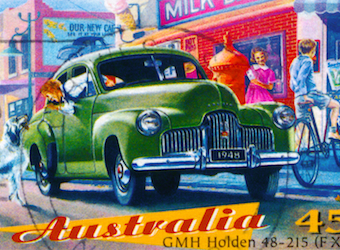 By John Spoehr, associate professor, University of Adelaide
In the wake of the global financial crisis, Holden's parent company, General Motors was placed on life support. Its fortunes collapsed along with the US economy, leading the United States government to bail it out as part of an $80 billion automotive industry assistance package.
On the back of this public support the auto giant recovered. It now appears to be aggressively repositioning itself in the global automotive industry – a fact that has largely been ignored in the unfolding crisis surrounding the future of Holden in Australia.
Debate around whether Holden plans to withdraw from Australia reached fever pitch, with Holden boss Mike Devereux telling a Productivity Commission inquiry no decision had been made.
But offshore reporting has drawn attention to major restructuring of GM's Asian operations. To rein in costs at its plants in Korea, GM recently announced that it would phase out export of its Chevrolet Cruze model to Europe. It seems it plans to consolidate around its Opel and Vauxhall brands.
While the scale of GM's Korean operations dwarfs its Australian presence, it is clearly not immune to global auto industry pressures. The Wall Street Journal recently reported that GM Korea "last year produced more than 2 million car-kits and vehicles, mostly for export".
What does all this mean for GM in Australia? While Holden is an icon in Australia, it is a very small player in the global automotive industry – an industry rapidly being relocated to low cost manufacturing nations. To survive in Australia there is no doubt that it will need substantial co-investment from the Coalition government. There is nothing unusual about this.
The automotive industry is one of many that receives government assistance, joining the agricultural and mining sectors as major beneficiaries of government support. The key questions for policymakers remain – is there significant public benefit from continuing to support the industry and what level and form of investment would help to secure GMH till early 2020?
Let's look at the cost of keeping GMH in Australia relative to the cost of losing it. The price of keeping GMH is appears to be around $150 million per year of government co-investment.
Research commissioned by my organisation to verify recent modelling we undertook on the impact of closure on South Australia and wider impacts on the nation provides a sobering perspective. The research undertaken by one of Australia's leading economic modellers, Dr Peter Brain from the National Institute for Economic and Industry Research, examined impacts on economic activity and employment from closure of GMH in 2016.
It estimates that around $4 billion in lost economic activity would flow from closure of Holden nationally. The impacts would be widespread with Victoria, New South Wales and South Australia worst affected. Employment losses of up to 65,000 were projected reflecting assumptions that the vast majority of large automotive suppliers to Holden would not be able to continue their operation, affecting hundreds of other companies that form part of the automotive supply chain and others that benefit in the wider economy.
These are very substantial losses that cannot be easily absorbed by other sectors experiencing growth. Automotive industry skills are not readily transferable into health and community services.
Where might the jobs losses be concentrated? The majority would be in Victoria (24,000), New South Wales (15,000), South Australia (12,000) and Queensland (8,000).
So the future of Holden in Australia is tied to GM's global automotive restructuring ambitions and the willingness of the present federal government to continue funding an industry that, like many others, makes decisions about where it operates based on national and state government assistance regimes.
For its part Holden has been quite transparent about what it needs from government to remain in Australia. A key reason for the present crisis is a major policy discontinuity arising from the change of government nationally.
The Coalition has clearly been divided in its view about what level of assistance is appropriate. Industry minister, Ian Macfarlane has appeared to be eager to strike a deal that was attractive to Holden. Some of his colleagues, including prime minister Tony Abbott have sent mixed messages about the value of investing in the car maker.
The nail in the automotive industry coffin appeared to be rammed home last week when Abbott indicated there would be no more extra money for GMH. In doing so he pre-empted the report of the Productivity Commission inquiry he initiated.
The Commission is expected to provide interim findings on relative international levels of support for the industry by December 20. Given the lack of consensus about support for the automotive industry in Australia, GMH has probably already concluded that closure is the only course of action it can take now. A formal decision may not have been made, but expectations that it will be a negative one, abound.

This article was originally published at The Conversation.
Read the original article.