Inside the bankruptcy and rebirth of Kodak, as told by its local marketing boss
From the shadows of bankruptcy, the iconic imaging brand is emerging as a purely B2B technology company. Kodak's local marketing head talks us through the journey of change so far, plus what's next. 
When customers and employees joined Kodak's president and chairman to ring the opening bell at the New York Stock Exchange on 8 January 2014, it symbolised the rebirth of an iconic brand.
"It's a new year, with a new company, a new stock and a new start," Antonio M Perez, president and CEO of the Eastman Kodak Company, said to mark the occasion.
After being a household name for over a century, the company had somehow slid, slowly but surely, until it found its name used as the go-to example of a painfully disrupted operation, the butt of jokes about how not to run a business. Which criticisms of the company were fair and which were not will be known only to those with access to the Kodak boardroom in the first decade of the 21st century, but the filing for Chapter 11 bankruptcy protection in early 2012 would have presumably been a relief for some – a time to step back, take a breath and make the changes that were required if Kodak was to live on.
On 3 September 2013 it emerged, reborn, as a global B2B technology company. Common shares began trading eight weeks later, with a new symbol, KODK. The intervening year and a half saw major sell- offs and structural changes. Kodak exited the digital image capture business. It exited the inkjet printer business. As a step to ending bankruptcy, the company that invented the digital camera sold $525 million worth of patents.
In this interview, Kodak's local marketing boss, Tony Harvey, talks us through this major change journey, one that is still taking place, from the perspective of the Australia and New Zealand business.
Marketing: Tell us what it was like for the company to enter Chapter 11. It sounds very dramatic, but it's not like it's announced and then everything shuts down…
Tony Harvey: No. It was a very open communication plan that we had to do. Chapter 11 in America buys you time to be able to reorganise your business in the right way, which is exactly what we did. We never really lost any contact with the customers.
So it's a strategic move?
The business needed to restructure, there's no doubt about it. We had a lot of different parts to our organisation so we needed to sit back and see where our future was going to be, and then reorganise the business around that, which is what we did.
And we're seeing now the benefits, because those customers who we communicated with during the Chapter 11, we're now continuing that close communication with because now we're ready to work with them on the future. I think it would have been really hard to stop communicating, keep everything in the bunker and try to control it and then go back out to the market and say, 'We're here.'
What were the internal changes like to go through for the organisation?
I actually think Kodak handled it exceptionally well because we made sure that all the staff members were very [informed]. It was a very open communication program, we had regular updates from America on what was happening.
Steve Venn, the managing director, was always available to people to be able to talk to them if they had some concerns. And, personally, I think it was handled very, very well. There was nice open communication, people understood where we were going.
I think we also understood, to be perfectly frank, is that each one of these businesses a good business. It was not that they weren't a good business, it was just that we needed to focus our organisation on something, and the graphics is what we're focusing on.
In terms of internal culture, who took charge on that and what was the hardest thing about keeping it positive?
Steve took charge of it from a local perspective. We have a Kodak leadership team that also was very supportive. There were common messages, and any issues that came up, we resolved them as quickly as possible. I think the other really great thing about it was that there were times during the whole restructuring of the organisation when you have to turn around to someone and say, 'I don't know. But as soon as I know what the answer is, I'll come back to you on it.'
We made sure that we did that and, to be honest with you, the change and the moving from Abbotsford to here [we're sitting in the boardroom of Kodak's new Australian headquarters in Box Hill, Victoria] has also been a terrific opportunity to change the culture of the organisation. We were in a big office, we're now in a smaller office focusing just on the graphics business, but if you notice everybody is nice and close to each other, it's a good community sort of atmosphere.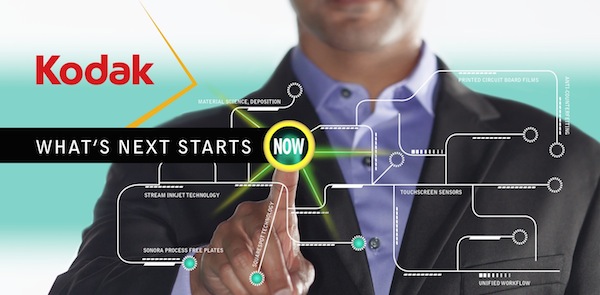 Do you know if a name change was ever considered? I'm curious because it's a company with a very long and strong heritage that's trying for a new life.
Not that I'm aware of… I don't think we would ever change the name. I don't think we would. I agree with you that our greatest challenge now, as Kodak, is to demonstrate to people that we are a graphics company. We've got a wonderful portfolio of products, we're one of the most high-tech businesses out there, but in the past we probably haven't communicated that the right way. So now most of our marketing material is based around, 'What's New Starts Now', because that's what it is. We've got these great products in the portfolio, we've got some really nifty technology. We're seeing an industry that's changing, the end users are still there and how you communicate with those end users will be different.
What are the main target markets now?
The printing industry is one of our key market segments, we sell a lot of printing plates, which is one of our key hero products. Now we have a very strong presence in high-speed inkjet technologies. We're seeing that when the commercial print industry wants to utilise and send the right message they use a number of different technologies, they don't just print on the printing press, but they use high-speed inkjet to do variable data printing. So the graphics industry is our core market and the customer base that we talk to.
What we're seeing is print in general is actually diversifying a little bit. More large organisations are starting to do in-house printing, so now the key message is that we're more a graphics communication company, because we talk to a number of different market segments.
We've got a strong presence in newspapers, for instance, we've got a really strong presence in the publishing market, and obviously in commercial print. So they're the areas we're focusing on.
As the marketer how do you communicate what the brand is about, given that in one way it's starting fresh and in another it isn't?
The easiest way to do that is to listen to your customers. We can develop whatever product we want, but if it doesn't meet the needs of the end users or the business then really it's not going to work. What we do now is we spend a lot of time listening, to be perfectly frank, and getting an understanding of what their needs are.
We tend to look now at the entire Kodak portfolio of our workflow, our plate technologies, our inkjet solutions, our digital presses, and how can we utilise all those sorts of products to enable our customers or the business to send the right message to their customers.
It's not as difficult as what you actually think, because most businesses know the Kodak brand, so they will always listen to you. I think now though, the secret to it is that it's more a collaboration with the customers. [For example]: 'Tell me what you're doing, tell me where you want to take your business, tell me what pain points you've got at the moment, and how can Kodak help you?'
At the moment the industry is going through change, and that change is really not all [simply] swapping straight over to inkjet, it's in that flux of variation. People have a lot of equipment out there – how do we maximise what they've got but still address the new market? That's really the messaging.
We're talking to our existing customer base, we're talking to new customers, and we're understanding, as I said, as their market changes we need to be able to go on the journey with them.
Is that customer voice formalised?
Last year we did what we call a Kodak Technology Review with our customer base. We sit down and we tell them a little bit about what we're doing at the moment, we talk to them about where our business is heading, where some of the products are heading. It's a confidential meeting, but it gives them an opportunity to be able to open up and say, 'Well this is where I want to take my business, how would you address that?' And then we can sort of look at that myriad.
One of the changes we did implement, from a staff point of view, is our staff now concentrate on the solutions [whereas] I suppose in the past many of the staff concentrated on a product.
This question is bigger picture, but it comes back to what you were saying about listening to the customer. Kodak is held up as an example of a company that didn't change with the times. I'm really curious on your take, because in the early 2000s Kodak built digital cameras successfully and made money out of them. It couldn't have just been head-in-the- sand, 'we're about filmstrip' thinking.
I think at Kodak we've always been a technology company. We've got thousands of patents that are sitting there. I think a lot of the 'slow to change' was just a timing issue. When is the right time to move away from film where we were making a lot of money? When is the right time to migrate the customer over into digital technologies and how do you make a return on that?
There was an external perception that we were slow to change, but I think it was really just that the film business was really good to us, you know, and sometimes you stick with what you've got. But we never stopped investing in technology. If you look at our Prosper presses and things like that, a lot of this technology came out of the R&D dollars that were generated through selling film.
We were such a big player in that game I think some of the great things that we did do during that time actually got pushed to the side a little bit. I can't really talk for the consumer [division] guys, but if you look at some of our kiosks and things like that, which are consumer digital solutions, we've got a terrific market share in there.
Did the kiosks get sold off?
Yeah, that's all gone over with our consumer business. We are 100% now focused on the graphics market. We still do have some of our entertainment imaging or our motion picture business, but now it's just purely focusing on the graphics.
And, as I said, the new technologies are an indication of where we see the business heading, and hopefully we've learnt over all those years that we need to be a part of the journey.
The Kodak website talks a lot about being disruptive. As a company that's seen its fair share of disruption, how do you use that? Do you say, 'All right, we've been through this, we've got some great lessons from it' or is it more, 'Don't mention the war'?
No, from a Kodak Australia view I think we need to learn from the lessons of the past. As I said, we've got a lot of very loyal customers. I think we need to make sure that we're part of the journey, and not just ignore it.
If you look at the strategies that were implemented during the whole Chapter 11 situation, we made sure that we were open to our staff, had open communication to our customers, and open communication to the market. What that enabled us to do was to keep those customers confident that Kodak was still going to be there, still producing great product, but now, the market is going to drive those customers into new areas.
What's next for the marketing strategy?
At the moment it's 'What's Next Starts Now' – that's the mantra for the organisation. Customers need to see what we're doing, what technologies we've got, how we see the market and go on that journey.
We certainly are spending more time now talking about the success of our customers through testimonials and other things, as opposed to just talking product spics and specs.
Are testimonials number one for you now in terms of marketing mix?
Yeah, from a marketing point of view customers can pretty easily go to the website and download the specs of a brochure on a press or whatever. They want to be able to know more about how to use that technology to make some money out of it.
What's the rest of the mix like?
We tend to do a lot of one-on-one B2B marketing, we do technology reviews with our customers. We tend to fly customers overseas to have a look at some Kodak technology if it's warranted. We still do some normal marketing, investing in print magazines and things like that, but as I said, we tend not to be product focused, we tend to be solution focused.
Has marketing technology come into play more from your side of things?
Very much so, yes. We have a CRM system internally, we have a fairly extensive marketing solution which we can utilise for EDMs and things like that. [But] you've got to be so careful with that sort of stuff because if you blast it out without a lot of thought then you can really quickly become a pain to the customer as opposed to informing them, so we don't do a lot of it.
With our channel partners we tend to have more open nights. We bring out some guest speakers from overseas, especially in the packaging space, Kodak has some fantastic technology which enables you to produce some fantastic Flexographic packaging, and so we've got a couple of key people from America that we bring out that talk to a lot of the key players in the packaging game. It's targeted communications as opposed to just that blanket, consumer, sort of 'belt-it-out-there', which is sort of what happens now in many cases.