Internet of Things a household novelty, true potential lies in commercial use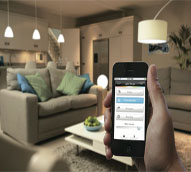 As we continue to hear about how the appliances in our homes will become more and more connected, many objects remain useless beyond their normal function – 'connected' or not.
Big brands are marketing their connected appliances as new household communal hubs – heating, cooling and lighting systems connected to our smartphones, so we can control them without getting up from our favourite chair, or even before we arrive home. But it's becoming clear that the real potential of the internet of things (IoT) lies in the application in commercial settings.
"Look at Samsung's new smart fridge, which they're marketing as the hub for your home. Do you think of your refrigerator as a hub?" asks Rob Chandhouk, president of sensor startup Helium.
"What companies are struggling with when it comes to the broad label of the IoT on the consumer side is what the actual problem trying to be solved is," Chandhouk tells Fast Company.
The IoT's role in the household, while providing some novelty technology value, may not make any big breakthroughs in the near future, perhaps where it will truly make a change – and in turn, achieve higher commercial engagement – is in industry and commerce.
Based on the $20 million Series B funding round including Alphabet's investment arm GV – formerly Google Ventures – it's pretty clear that big players agree.
The ability to detect information from the physical world and measure and apply it within a business, is immensely powerful. If we consider temperature, hospitals would be able to monitor temperature of drug refrigerators, and receive notifications for sudden drops or increases in temperature which may need to be addressed. Similarly, in hospitality, temperature detectors could raise a notification if cool rooms or freezers are left open or are affected by power outages.
Temperature data, when analysed against consumer buying trends could enable retailers to monitor changes in shopping patterns based on temperature, and subsequently regulate temperatures in store to maximise opportunity.
Businesses like insurance companies are showing interest in the Helium startup. "If you're a restaurant insurer, and you have to pay off a quarter-million dollar claim because someone left the refrigerator open overnight, you'd want some way to detect that as soon as possible."
–
PREMIUM CONTENT: What will the Internet of Things really mean for marketers and brands in Australia? Find out in Marketing's trend briefing »
–