Marketing's influence on business strategy growing in correlation with data investment: PwC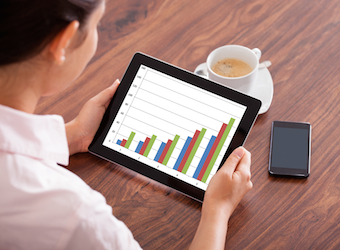 Marketing's
influence over business strategy is growing in correlation with data investment, 
according to a survey of senior Australian marketers by PwC. 
The survey also confirms a major shift toward owned media at the expense of paid media.
The majority of Australian marketing departments are moving their spending away from traditional advertising and towards 'owned' channels, according to PwC's Australian 'Entertainment and Media Outlook 2014-2018,' which was released today.
67% of senior marketers have seen a shift in budget allocation from 'paid' to 'owned' channels over the previous 12 months, according to the joint PwC-Australian Marketing Institute (AMI) survey of 162 senior practicing marketers.
These findings support data from the Australian Bureau of Statistics (ABS) which show that Australian businesses are increasing their social media presence and increasing their use of digital technology. For example, nearly a third of Australian businesses received orders over the internet in 2012-13, with an increase in value of nearly $10 billion from the year before.
PwC's 'Australian Entertainment and Media Outlook 2014-2018′ provides a five-year forecast for advertising revenues across 11 industry sectors including newspapers, radio, music, free-to-air TV, subscription TV, consumer and educational books, out-of-home, magazines, internet, interactive games, and filmed entertainment.
"The reorientation of marketing spend will have the greatest impact on the media, entertainment, and advertising industries, with deteriorating spending on traditional platforms prompting greater urgency to embrace new revenue models," says Megan Brownlow, editor of the Outlook report.
"Digital and social media channels have driven this trend by diluting the reach of traditional platforms, and making it easier for brands to access their audience directly."
"In response, established media companies are creating new income streams and building new distribution channels to supplement their threatened advertising revenues," she says.
Marketing's influence over business strategy grows
The ability of brands to directly target audiences and access insights about their behaviour with digital technology has given the marketing function more influence over core business decisions, the report finds.
"Marketers have gone from being responsible solely for promotion, to reclaiming sovereignty over the other three 'Ps' of classic marketing: pricing, product development, and placement."
The joint PwC-AMI study shows a correlation between marketers who are investing in data and those who believe the function is moving from a departmental to a more strategic 'whole-of-business' approach. 84% of marketers who are investing in data are seeing this shift, compared to 74% who claim their expenditure on data will remain the same.
Performance of media and entertainment sector
Total Australian entertainment and media spending grew by 4.5% in 2013, compared to growth of 5.2% globally and 7.1% in the Asia-Pacific region.
Consumer spending strengthened in 2013 to grow by 4.4%, in large part due to good performances in the interactive games sector, internet – especially mobile – and subscription television, including IPTV.
The advertising market also enjoyed better growth than the previous two years and grew by 4.8% on 2012. These revenues, however, are spread over more players and channels as the industry experiences ongoing fragmentation. Internet advertising again achieved the most growth, increasing by a rampant 20.3% on 2012.
FURTHER DETAIL: PwC's forecasts for 11 segments of entertainment and media 2014-2018 »
Over the next five years Australia's total entertainment and media market is forecast to grow at a 3.4% compound annual growth rate (CAGR) from $33.7 billion in 2013, to reach $39.8 billion in 2018. Consumer spending continues to dominate the entertainment and media market and is expected to grow to $25.4 billion by 2018, a CAGR of 3.5%.
The Outlook report forecasts interactive games to be the fastest growing consumer sector, with a 7.6% CAGR and internet access to remain the largest sector, reaching $12 billion by 2018.
Advertising spending is expected to reach $14.4 billion by 2018, a CAGR of 3.1%. By 2018, internet advertising is expected to be the largest advertising sector, reaching $5.7 billion.
Other findings: content and data increasing priorities for brands
The survey also confirmed what the industry has been talking about for some time: the use of content and data are progressing in their key roles.
Regarding content marketing, the report says that organisations are now 'doing it for themselves' by redirecting advertising budgets into consumer relationship management and shareable online editorial and video to build their presence. "We are seeing sports, telecommunications, and even finance brands becoming more like advertising and media companies in terms of the quality of the content they produce," Brownlow says.
On the data front, customer data is having a profound effect on the way marketing spend is allocated. According to the survey, three in four marketers are using more customer data, mainly because it allows for better targeting and tailoring of products and messages. The survey also showed that three in five marketers expect to increase their investment in data and data analytics over the next two years.
"Brands can no longer afford to hold onto the same old assumptions about consumer behaviour and preferences," Brownlow says. "Data is the key to understanding and targeting today's diverse customer base."
"Data analytics can also deliver 'real-time' customer insights, meaning companies can be much more responsive to their customer's needs and more agile in their strategic decision making," she says.