PwC's forecasts for 11 segments of entertainment and media 2014-2018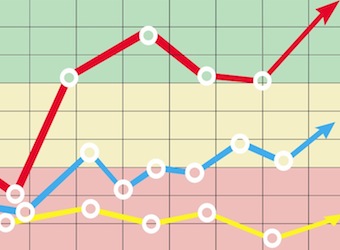 Presented below are the segment summaries from PwC's Australian 'Entertainment and Media Outlook 2014-2018', released today, which charts performance across the sector as a whole and 11 individual areas including newspapers, interactive games, music, internet, filmed entertainment, consumer magazines and radio.
Newspapers
The Australian newspaper market is forecast to shrink at a compound annual rate of 3.2% from 2014 to 2018,
the sector is trying to balance impressive growth in digital circulation against continuing declines in total circulation,
total circulation spend on digital newspapers is forecast to grow from $37 million in 2013 to $380 million in 2018,
as high-profile titles begin to lose the readers of their print editions, publishers have taken serious measures to adjust, including downsizing print editions and enacting cross-platform newsroom integration to improve digital propositions,
while digital advertising has been more encouraging, it is expected to represent only a third of advertising revenues for newspaper publishers by 2018, and
Australian publishers will also continue to face increased competition from overseas English-language publishers, such as the UK's Guardian and Mail Online which have launched Australian online editions.
Filmed entertainment 
The Australian filmed entertainment market is forecast to grow by a compound annual rate of 1.1% from 2014 to 2018,
box office revenue is expected to rise over the forecast period, overtaking total physical home video revenue by 2015,
revenue from electronic home video will post strong gains from 2014 to 2018, and these gains will be most pronounced for over-the-top (OTT) video providers such as Quickflix and streaming services,
spend on video on demand via OTT and streaming services is forecast to grow from $103 million in 2013 to $255 million in 2018, and
it is likely that bigger foreign players in the video-on-demand space will enter the Australian market, to compete against Quickflix and other OTT services such as Foxtel's Play and Presto.
Radio 
The Australian radio advertising market is forecast to grow by a compound annual rate of 3.4% to 2018, which represents an increase from $1.13 billion in 2014 to $1.30 billion in 2018,
the growth in smartphone adoption coupled with the rise of streaming music services will increase pressure for traditional broadcasters – cannibalising listening hours and advertising spend,
broadcasters are responding by forming partnerships with streaming music businesses which should put them in good stead for integrated advertising sales, and
audience measurement for online and mobile listening is a crucial issue facing the industry in the next five years.
Consumer magazines 
The Australian consumer magazine market is forecast to decline at a compound annual rate of 2.1% from 2014 to 2018. In Australian dollar terms the market will go from $1.34 billion in 2014 to $1.22 billion in 2018,
while print circulation spending is forecast to decline, spending on digital consumer magazines is set to grow from $19 million in 2013 to $104 million in 2018,
single sale copies through retail, rather than subscriptions, dominate circulation revenue making competition from online content fierce and the consumer magazine market highly susceptible to changing consumer tastes,
advertising revenue is migrating towards digital media – the trend towards digitisation is supported by increasing broadband penetration, increasing tablet sales, and Australia's improving telecommunications networks.
Subscription television 
The Australian subscription television market is forecast to grow by a compound annual growth rate of 4.6% from 2014 to 2018. In Australian dollar terms the market will grow from $3.38 billion to $3.89 billion,
Foxtel has secured a near monopoly in the subscription TV market. Competition will continue to grow from internet protocol television (IPTV) players such as Apple TV which will increase the overall subscription TV market,
anti-siphoning legislation will continue to limit the number of subscribers and exclusive sports broadcasting on premium subscription television, and
content and lower price points for internet-delivered offerings will be the keys to subscriber growth. Opportunities to source exclusive content may be triggered from future changes to the output agreements that free-to-air TV networks have with major studios.
Free-to-air television 
Spend on free-to-air advertising is forecast to grow from $3.85 billion in 2013 to $4.13 billion in 2018. This represents a compound annual growth rate of 1.4%,
the regulatory environment will play a prominent role in the competitive landscape as the proposed abolition of the '75% reach' and 'two out of three' rules has encouraged consolidation talks between players in the market, and
the popularity of ad-skipping video recorders continues to prompt innovation in integrated advertising and also to increase the desirability of live sports broadcasts free-to-air.
Interactive games 
The Australian interactive games market is forecast to grow from $1.75 billion in 2014 to $2.29 billion in 2018. This represents a compound annual growth rate of 7.7%,
the digital console games segment will experience the greatest revenue increase, from $315 million in 2013 to $807 million in 2018,
the push towards greater digital distribution continues, tightening the integration of next- generation consoles with cloud games services and online shops, and
mobile gaming is developing as a distinctly separate market from traditional console and PC gaming. The dominant 'freemium' revenue model will increasingly be supplemented through advertising and sponsorship revenue.
Internet 
The combined internet access and advertising market is forecast to grow from $13.8 billion in 2014 to $17.7 billion in 2018,
total fixed broadband revenue is expected to flatten over the forecast period as the bulk of new revenue moves to the mobile internet access market, driven by increased penetration of connected devices,
spending on mobile internet access is forecast to grow from $4.18 billion in 2013 to $6.75 billion in 2018, and
on the internet advertising front, growth in search and display will continue, with mobile and in particular video, taking larger shares of the market.
Music
The Australian music market is forecast to grow from 2014 to 2018 at a compound annual growth rate of 0.6%,
of the three market segments – physical distribution, digital distribution, and live music, digital will experience the greatest growth, from $498 million in 2013 to $658 million in 2018,
the strong growth in the music market is driven by a plethora of entrants into the digital music space – particularly US companies looking to establish a global footprint, including Spotify and Beats Music, and
Australia's live music sector remains active, however a fluctuating dollar and cooling festivals market means that international touring is no longer a guaranteed success.
Out-of-home (OOH) 
The Australian OOH advertising market is expected to reach $779 million by 2018, which represents an annual compound growth rate of 3.2% from 2014,
growth in the Australian OOH advertising market will continue to be hindered by high capital expenditure costs and a lack of uniform regulations for large-scale digital and roadside billboards, and
the OOH market will benefit over the forecast period from the incorporation of new technologies into digital panels. Rising smartphone ownership and technologies such as near-field communications will aid creativity in OOH advertising in retail and transit environments.
Consumer and educational books 
The Australian consumer and educational book market is expected to increase at a 0.9% compound annual rate from 2014 to 2018,
in Australian dollar terms the consumer and educational books market is forecast to grow from $1.81 billion in 2014 to $1.93 billion in 2018,
publishers have become more risk-averse; cutting back on the number of home-grown books they invest in as a result of fewer physical book stores and reduced income,
despite declines in consumer books in print and audio format, Australia's book industry will see a positive turnaround from 2016 onwards, with the rise of consumer ebooks, and
the Australian digital/electronic consumer books market is forecast to grow from $229 million in 2013 to $456 million in 2018.
ALSO READ: Marketing's influence on business strategy growing in correlation with data investment: PwC »