Facebook doubles down on payments with Facebook Pay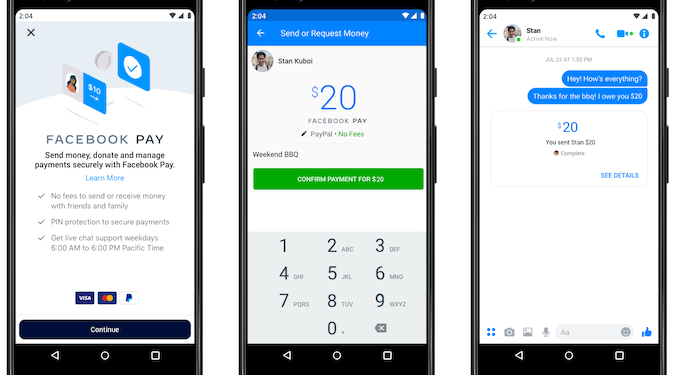 With its Libra cryptocurrency project currently facing regulatory scrutiny and losing supporters, Facebook is doubling down on its commitment to online commerce with Facebook Pay.
Facebook launched Facebook Pay today, an online payments tool it says will provide people with a convenient, secure and consistent payment experience across its family of apps – including Messenger, Instagram and WhatsApp.
It's strange timing for Facebook to unveil another payments product, given its Libra cryptocurrency project is still receiving heat from lawmakers the world over, and with several founding partners now having left the Libra Association.
Facebook has insisted from the launch of Libra and the Libra Association that the entities will stay completely separate from Facebook's core business. If Libra does ever get off the ground, Facebook says its vote will be weighted equally with other founding partners.
In today's announcement, Facebook reaffirmed that Facebook Pay will indeed be seperate from Libra and its Calibra wallet.
For the moment, Facebook Pay is only available in the US for fundraisers, in-game purchases, event tickets, person-to-person payments on Messenger and purchases from select Pages and businesses on the Facebook Marketplace.
According to Deborah Liu, Facebook's VP of marketplace and commerce, the company is planning on expanding the payments feature outside of the US, though no indication of a timeline has been given yet.
"Facebook Pay is part of our ongoing work to make commerce more convenient, accessible and secure for people on our apps," says Liu.
"In doing so, we believe we can help businesses grow and empower people everywhere to buy and sell things online. We'll continue to develop Facebook Pay and look for ways to make it even more valuable for people on our apps."
Facebook Pay could be an attempt from the company to install a unifying force across Facebook's social app suite – Facebook, Instagram, WhatsApp and Messenger.
Only a week ago, Facebook introduced its rebrand, aimed at differentiating the corporate brand from the social network.
According to Antonio Lucio, global CMO of Facebook, the rebrand was part of an effort to be "more transparent" with users in "showcasing that everything is coming from the same company."
A Pew study from last month found that only 29% of Americans know that Facebook owns Instagram and WhatsApp.
Further Reading:
Image credit: Facebook