Salesforce to simplify marketing analytics with new Datorama app marketplace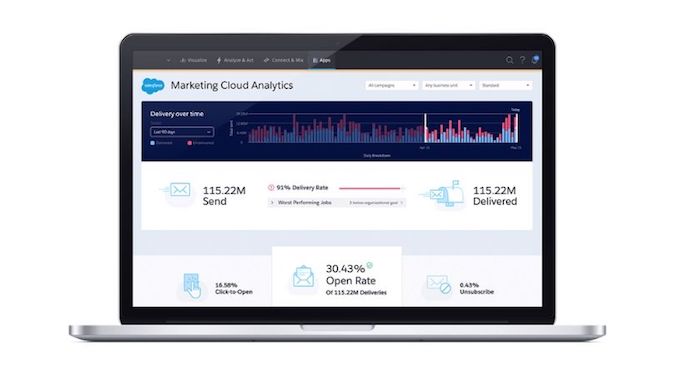 Brands and agencies leveraging Datorama's marketing intelligence capabilities look set to benefit from an app marketplace designed to simplify and democratise marketing analytics.
Datorama, now part of the Salesforce Marketing Cloud, will launch the new platform next month, Marketplace, with 14 launch apps. The marketplace will largely open up Datorama's AI capabilities to developers who can develop new apps for the marketplace. The apps will also be available through the Salesforce AppExchange.
Jo Gaines, AVP Salesforce data and audiences and co-VP APAC Salesforce Women's Network, tells Marketing the platform is intended to simplify marketing analytics for brands and agencies that pull data from numerous sources.
"At Salesforce we talk a lot about making everything work seamlessly and being able to connect together all of the different strands for effective data solutions. I think that this shows that we're putting our money where our mouth is and focusing on making those integrations accessible to everyone."
She adds that the marketplace is designed to empower B2B and B2C marketers to create a personalised engagement across channels and monitor and measure data to find efficiencies.
"Marketers now have on average 10 different sources of data. That's up 25% year-on-year, and they're trying to make sense of all of that. So this kind of user-friendly tool that they can set up themselves is a game-changer."
Marketplace will feature pre-built apps for Salesforce solutions as well as those from partners, including Google Marketing Platform and Pinterest.
Apps in the Datorama Marketplace complement existing Datorama capabilities, offering measurement best practices, elegant data visualisation and AI-powered insights.
According to a Salesforce media release, simplifying how marketers discover and implement new marketing solutions will enable Datorama customers the ability to expand into new data sources, areas of measurement, reporting and insights.
Currently, the Datorama Marketplace features 14 apps accessible to beta customers. The complete list of available and upcoming apps include:
Salesforce Marketing Cloud Email – interactive analytics that help benchmark and measure the effectiveness of email marketing campaigns
Lead Generation – a Sales Cloud app that allows B2B marketers to connect paid, owned and organic campaigns to lead results, velocity and opportunities
AppNexus Essential Monitoring – identifies ad server discrepancies and surfaces KPI performance trends for marketers to optimise campaigns and budgets more effectively
Workspace Health – monitors data quality across every marketing source in one actionable view
Social Intelligence – compares brand presence for competitive insights across Facebook, YouTube, LinkedIn and Twitter, and
SmartLens Apps – the following apps deliver improved reporting for top marketing sources by displaying KPIs, trends and instant analytics: Facebook Ads, Google Ads, Google Analytics, Google Campaign Manager, LinkedIn Ads, Twitter Ads, Bing Ads and AppNexus.
Further Reading:
Image credit: Supplied