Can Samsung's partnership with Disney rescue the Galaxy S9's AR Emoji feature?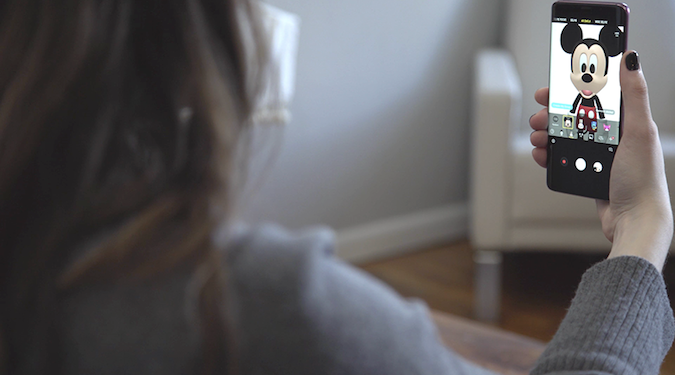 Samsung partners with Disney to save its AR Emoji feature with augmented reality (AR) versions of Mickey and Minnie Mouse.
Samsung Galaxy S9 and S9+ users can now create and send videos of themselves animated as Disney's Mickey and Minnie Mouse, through the use of augmented reality (AR) technology. Samsung's new feature follows Apple's November release of 'Animoji', a similar technology that allows users to animate selected emojis using the front facing camera and sensors on the iPhone X.
"The Disney AR Emojis offer an innovative approach to content for the Galaxy S9 and S9+ and a fun way to bring magic to messages" says Apps at Disney Consumer Products and Interactive Media vice president John Love. Disney AR Emojis uses similar technology to Snapchat's 'Filters', using deep learning and facial recognition technology to map over 100 reference nodes onto the user's face, and render a digital 3D model. Thus expressions in the user's face are emulated in an animation of Disney's characters in real time.
Upon the release of the iPhone X, Apple announced Animoji as an exclusive feature of the new flagship device. Animoji operates on a similar principle to Samsung's AR emoji, however with the additional aid of the iPhone X infrared sensor, 'flood illuminator' and 'dot projector'.
Since its release, the AR emoji feature has not received the warm welcome Samsung might have been anticipating, with many users calling it 'clunky' and even 'creepy'. "I didn't actually appreciate how smooth and accurate Apple's Animoji was until i went back after this and tried it again". Says Youtube technology reviewer Marques Brownlee in his review of the Galaxy S9's AR emoji feature. "I don't see many people using AR emoji past the first few days or two, maybe just for fun."
Samsung will be looking to reinvigorate some of the excitement for AR Emoji with Disney's proprietary characters, promising more accessible characters from The Incredibles, Zootopia and Frozen throughout the year.
Further Reading: