The most accurate analysis of political marketing comes from running the gauntlet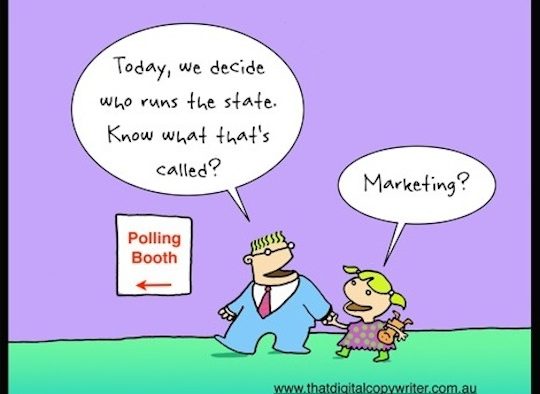 Nic Atkinson writes of his experience on state election day, adding his writing talent to his regular weekly cartoon spot.
I'm a creative writer. I've spent a good part of the last 15 years watching people, through a two-way mirror, provide their opinions on televisions scripts, while I nibble on cheese, bickies and the odd chardonnay. It's always been helpful to get some demographic insight, even though it is derived in an artificial environment.
It's marketing 101: understanding the market.
However, for three hours last Saturday, New South Wales election day, I was slapped (not literally) into an eye-peeling understanding of just how people feel – but in a very real way. I had volunteered to be a how-to-vote-for-our-party election pamphleteer at a local primary school, and discovered firsthand just how blunt, raw and fast an experience it was for observing the marketing effectiveness of competing political parties.
Stand back, here they come
So, take yourself back a few days (or earlier if outside NSW), and if you can't just pretend Scotty has beamed you into the opening footpath to the school voting hall. Bang… they rush you with voting advice literature. Liberal? Labor? Green? Independent? What should you do? Take the one you want, or just be the nice guy/gal and take them all?
Once you've been wallpapered with A3s, you wander in to release your voting passion, then saunter back past the pamphlet providers, only to be ingloriously ignored by the very same people that, just minutes previously, aspired to have your baby.
You then frolic to your getaway car, content with having secured the next government while acutely aware you've left behind a pack of ravenous political junkies, pushing, shoving and gnawing at each other until the next prospective voter bait arrives.
Or, at least, that's what I expected to find. But to my surprise I was rather enlightened by the experience.
Do political sides only hate each other when the cameras are on?
For starters, at least in this particular front line, all the opposing enemy troops got along. If a voter wanted just the Labor Party pamphlet, he was guided to which one of us was the appropriate supplier. If Liberal, or independent, then likewise. There was even the occasion when a voter tore strips off the Green guy, angry with their policies, and stormed off leaving the elderly gentleman shellshocked, to say the least. Opposing pamphleteers cheered him up, and he went back into action.
Of course, we all received the odd gruff response when approaching prospects. However, the majority of voters were polite and, to my surprise, picky as to which paperwork they wanted.
I know it's a cliche, but most people follow their tribal traits 
And here's the nut of my conversation: after the first hour or so of settling in, give or take a handful or so, I started to crack which particular person was going to take which particular party's pamphlet.
The youngies headed in the Green's direction, unless they looked as if they had just jumped out of the Rover, then it was to the Libs' direction. To my surprise, Labor didn't get much of a look in.
Middle-aged folk seemed to be mostly in couples, with the vast majority surrendering to the Liberal Party – understandable, as this was one of their blue ribbon seats. Balancing this, there were tradies and fire brigade staff supporting Labor. Amusingly, an elderly nurse from the Euthanasia Something-Or-Other Party gained a lot of traction with the older set but seemed to set off immense laughter when approaching young people.
The Liberal guy didn't seem to get one heckler about poles and wires and the demise of humankind. There was one guy wanting to drill down details about industrial workplace policies… we all agreed he was a super stooge (meaning more stoogier than us regular political stooges) trying to tie-up the worker's time.
Can we get some more makeup on this policy?
So, how effective was the Labor Party message of doom and gloom if poles were flogged? And ditto the Libs' denial massage that nothing of the sort had crossed their minds?
To me, and what I saw on the day, there just wasn't enough anger (or any?) to bring down the pole busters. Maybe, if Labor had someone from central casting to head their campaign, someone like… Mike Baird, they might have punched harder.
Not being a member of a political party, I have no idea just how deep (if at all) political hacks drill down into how voters feel on the day, how they've responded to lots of marketing money been thrown at them? It appears in this instance, in what's been referred to as 'one of the nastiest campaigns ever', it didn't inspire anything along the lines of a Les Miserables uprising.
Perhaps it's because, as someone told me years ago, there's always a quarter of the electorate that vote to the left, a quarter to the right, and the remaining great unwashed swing the result by voting for personality, or likability.
And, as everyone knows, policies can get in the way of the next beer, or chardonnay.