Tourism Aus shifts gaze to Europe and NZ with $14.3m Emirates deal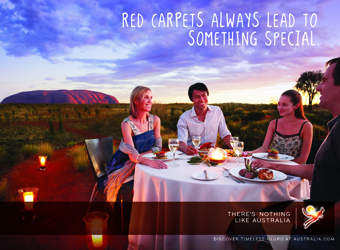 Tourism Australia (TA) has shifted its gaze to Europe and New Zealand, announcing a $14.3 million joint marketing agreement with Emirates.
With the focus having been heavily on China and other Asian markets since the relaunch of 'There's nothing like Australia, TA will partner with Emirates to renew its focus on some of Australia's leading inbound visitor markets, namely the United Kingdom, Germany, France, Italy and New Zealand.
The three-year deal will fund joint marketing initiatives on traditional and digital media platforms, as well as event and sponsorship activity, it was announced today.
Emirates, the world's largest international carrier, has worked with TA on cooperative activity in the past and plans to up its investment in Australia with 14 new routes to be added to its roster of 70 flights to Australia per week by 2013.
TA's managing director, Andrew McEvoy, says Emirates' commitment to the Australian market has made it one of the country's strongest marketing partners, since it started visiting the nation's shores in 1996.
"Tourism Australia has worked with Emirates on local cooperative marketing activities across individual markets for some years now, and very successfully so, linking Australia's visitor appeal with the airline's extensive schedule and internationally recognised and well respected brand," McEvoy says.
"Both parties have agreed there is now a need for a more strategic, longer-term agreement to more effectively market Australia to Emirates' extensive global customer base, in particular throughout Europe where the airline is so well established."
The deal is the largest investment Emirates has ever made with a global tourism body, according to senior vice president of public, international, industry and environmental affairs at the airline, Andrew Parker. "Emirates has carried more than 16 million passengers to and from Australia since 1996 and today we enable travellers from more than 30 European locations to travel to Australia via one stop in Dubai, offering passengers from all corners of the continent the chance to enjoy the many and varied attractions down under," Parker says.
It's understood the deal will not abate TA's investment in Asia. McEvoy says the markets covered by the arrangement "align strongly with Tourism Australia's 'balanced portfolio' approach". The plans are another step in the board's 'Tourism 2020' efforts aimed at doubling annual overnight visitor expenditure to up to $140 billion by the end of the decade.
The partnership follows the news of Emirates' 10-year alliance with Qantas, which will see Qantas shift its hub for European flights from Singapore to Dubai and enter "an extensive commercial relationship" with its rival.