Toward 'forward pathing' as a means for customer experience to become a competitive advantage
Vishal Kawatra discusses the modern online marketplace, where consumers are distracted by an overload of content, and how the concept of 'forward pathing' and creating seamless consumer journeys will ensure victory in the modern marketing battlefield.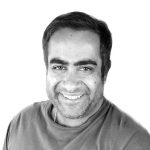 If content is king, then curation is the queen, marketers need to be storytellers and authentic influencers to reign supreme over yesterday's celebrity endorsements. Telling the right story, to the right person at the right time. These are just a few of the lessons etched into the minds of modern marcomms professionals who have witnessed the rapid and intelligent evolution of the industry in the last few years.
A concurrent narrative has also been unfolding; predicting the rise of machines replacing marketing roles. In fact, Fortune magazine reported in 2015 that online marketers were one of five white collar jobs that robots have already taken.
Maybe robots will eventually take all the marketing jobs (and I for one look forward to serving our new silicon overlords) but right now marketers and online retailers need to be putting their trust in machine learning to avoid getting left in the dust by the human competition.
Modern marketing has played out a bit like a human versus software tug-of-war, with the ability to effectively scale campaigns and data at one end (team machine) and the empathy and flair to truly personalise content at the other (team human). The tension between the two has at times been palpable and for too long marketing material has existed as the frayed rope in the middle.
Ever received an EDM campaign where the algorithm hasn't quite got your personal contact details right? Or been served an ad for something very left-field on account of mixed signals from various people using your device?
These are all symptoms of a dysfunctional and very early relationship with martech.
But the truth is as marketers we need better help. More data has been created in the last two years than in the history of the human race. Today we use and analyse less than half a percent of data and this is only going to get worse. We're not keeping pace and we're not coping.
Part of the problem is a dizzying love affair with all things video; as our networks support more bandwidth, our processors handle more data and our screens grow in surface area and shrink in depth, we're lapping up more video than ever before.
Content convergence
Consider the scale of the opportunity for marketers. Global retail ecommerce sales reached $1.67 trillion worldwide in 2015 and are projected to nearly double to $3.02 trillion by 2018. Establishing a connection and a loyal, authentic relationship with the online customer is no longer a luxury but an imperative.
The scale of the opportunity is mirrored by the challenges surrounding it. Marketers are increasingly forced to cater to myriad new platforms and an onslaught of video content that pulls potential buyers in multiple directions.
WILFing (what was I looking for) became an accepted internet acronym in 2007 and was used to describe the process of getting lost in distraction on the web.
Nearly 10 years later it's fair to say the condition has spread at myxomatosis-like rates, to a point where the shopping journey is littered with potential distractions, further complicated by the shift to mobile adding new mediums, platforms and potential interruptions to the buying journey.
As we navigate the online world, moving through platforms, mediums and touch points, we are constantly experiencing and sharing stories. Imagine trying to maintain a steady stream of thought about a purchasing decision while watching a tiny hamster eat a tiny burrito, this should give you an idea of the distractions consumers face.
Facebook Live streams, automatic video plays, the meteoric rise of Snapchat, the subsequent innovation (ahem, copying) from Instagram Stories. Video is permeating our daily news and social inputs more than ever. There's over one million shopping channels on YouTube and the birth of the YouTube shopping guru is testament to the platform's power to influence purchasing behaviour.
Of course content is more important than ever for swaying the purchasing decision. Forrester Research has revealed consumers now engage with 11.4 pieces of content prior to making a purchase.
Today a typical shopping experience may see a potential buyer hover on a site, look at a product's specs and price before bouncing across YouTube to check out some unboxing videos, video reviews or tutorial content. This has been coined as the Zero Moment of Truth (ZMOT) by Google and shopper sciences who are frantically trying to better understand consumer desire to purchase moments, not just products.
It makes perfect sense. Video is a powerful form of storytelling that instantly transports us into a visceral narrative, connecting with facial expressions, voices and discovering movement and action that bring the message to life. It's no wonder brands, content agencies and advertisers are jumping on-board the MP4 wagon with all guns blazing.
The narrative surrounding a product creates an emotional response that heavily determines consumers' attitudes and beliefs surrounding and inclinations towards the product itself, and video is increasingly becoming the most ubiquitous and effective way that narratives are communicated online.
The future is an intelligent journey
Today's empowered consumers are fluent in using tools and tech to cut through marketing noise and demand exactly what they want, when they want it. Until now, efforts to market to this new behaviour pattern have fallen on the back foot, with retailers and brands scouring big data in vain attempts to pre-empt and lure the customer in at intervals on their journey.
Only now are companies beginning to balance the scales and instead of meeting the customer at points along their journey, focus on the journey itself, mapping this from start to finish with ultimate care and attention to detail and treating the journey as their competitive advantage.
Looking further forward, an emerging battlefield for marketers and machines alike will be in the realm of 'forward pathing' (a term that describes avoiding the recurrent loop back to search engine homeland in place of guided links on a web journey, offering personalised, categorised content).
Forward pathing offers the potential for a fluid journey for consumers, WILFers and shoppers alike.
Tomorrow's marketing warfare will be played out down the rabbit hole of a seamless internet journey, with checkpoints and natural gateways for marketers to target consumers in even smarter, more personalised ways.

_
Vishal Kawatra is co-founder of NowDiscover, an intelligent web application that enables etailors and brands to algorithimcaly curate video content based on product data into a digital supply chain.