Uber day one: taxi protest causes chaos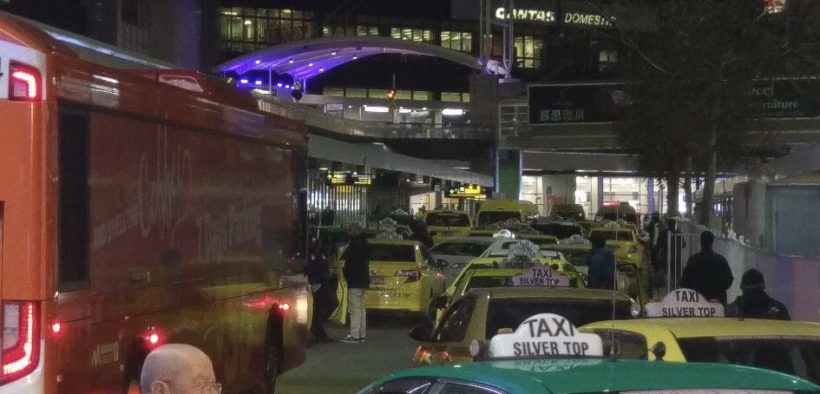 Melbourne taxi drivers blockaded the main entrance to Tullamarine Airport overnight, on the eve of Uber's first day of operation there.
Image: Brian Wilson/Twitter
In protest of Uber drivers being allowed to pick up and drop off customers at Melbourne Airport from today onwards, about 150 Melbourne taxi drivers blockaded the airport's main vehicle entrance overnight.
A number of infringement notices were issued and two taxis were towed. The blockade has now been cleared but consistent delays occurred for passengers throughout the night.
The airport offered free rides for affected passengers on its SkyBus service to and from Melbourne's city centre.
The protest mirrored numerous ones held in cities worldwide by taxi drivers fearing the competition from Uber. Many of these protests actually provided valuable publicity for the disruptor app, and prompted hordes of unsatisfied taxi passengers to make the switch to Uber. It'll be interesting to see if last night's blockade will have the same effect.
Victorian Public Transport Minister Jacinta Allan thinks so. "This sort of behaviour will only drive frustrated and angry passengers to the very competition these people are protesting about," she says.
As of today, Uber drivers will formally be allowed by the airport to pick up and drop off passengers, although taxi groups believe they're already overstepping the boundaries of the new legislation.
"It appears for all intents and purposes they've already stretched the legislation … that's only been in force for a few days, which clearly states that rank and hail work is the clear purview of taxis," Nina Massara, a taxi licence holder and member of the Victorian Taxi and Car Hire Families Group, told ABC Radio Melbourne.
Messy traffic at Melbourne Airport with taxis staging protect blockade – more to come pic.twitter.com/iS35EDGZh5

— Brian Wilson (@ietsystems) August 15, 2017
#uber available from Wednesday at Melbourne Airport #MEL : next we wait for a train line. pic.twitter.com/CMcwQHrIKr

— MEL_Air (@MelbourneAir) August 15, 2017

–
Further reading
–