VICE unveils virtual office in virtual world Decentraland
The metaverse is well and truly here. VICE's creative agency Virtue Worldwide has created an office inside it, which will be a virtual building to multiple VICE businesses.
VICE has taken residence with a permanent office in Decentraland. The move is to create a dedicated innovation division within Virtue Worldwide. It will aim to help brands innovate in the growing list of new platforms, technologies and spaces.
Already proving themselves to know the space, in mid-2021 the team at Virtue Features launched Coca-Cola's first NFT. This proved for its other suite of brands that the new technology can be meaningful.
What is Decentraland?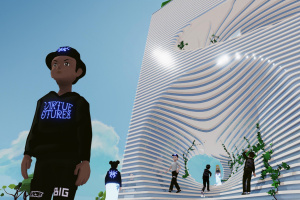 Launched in 2020, Decentraland is a 3D virtual world browser based platform. It is essentially a global community in one ever expanding virtual world. Users buy plots of land as NFTs using cryptocurrency. More specifically, using the Ethereum blockchain.
To purchase your part of Internet real estate, you'll need a desktop internet browser and a crypto wallet.
Built in Decentraland's open world platform, VICE's office space will serve as a virtual innovation lab. The team will experiment with NFTs, DAOs and Web 3.0. 
Virtue Future's global executive creative director Morten Grubak spoke about the virtual office, "The creative opportunities within the metaverse are hugely exciting. We're already helping brands navigate this new space. it makes sense to have an office there ourselves."
The purchase of a virtual office is a central part of the vision for a global borderless team. Clients and collaborators will meet for briefings and presentations. It will tear down borders and allow cross cultural pollination of ideas and resources. The space showcases a range of digital experiments, and has plenty of hidden extras for curious explorers. It will also serve as a launchpad for digital field research into the sociology of digital communities.
Nancy Dubuc, CEO of Vice Media Group said: "Vice has always been about being inside culture, going to places where our audiences are. This is a new frontier filled with potential and once again, we're proud to be pushing the boundaries."