Why China will beat hipsters, technology will always need stories and drones will rule everybody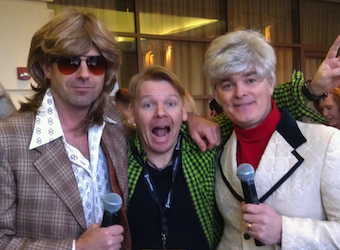 Barrie Seppings, regional creative director at Ogilvy Singapore, visits SXSW, sees the future and very nearly survives.
When 25,000 people try and attend 800 sessions over 5 days in one city, there can be no definitive 'experience'. Everyone who goes to SXSW comes away having seen something unique – here's what I managed to take in during the annual 'spring break for nerds' in Austin, Texas.
Hipsters with soldering irons are in for a shock
While kickstarter projects and tech-hipster "maker faires" get all the press coverage in the West, China is quietly leapfrogging the hobbyist phase and developing a maker culture that's a natural precursor chemical to the manufacturing industries that drove its stunning economic development over the last 30 years. UC Irvine researcher Silvia Lindtner revealed that the Shanghai government is opening 100 'maker spaces' this year alone, and one of the inventors of the 'Maker Bot' 3D printer now spends half of each year in Shenzhen. Product innovation is China's new tech mantra.
New media storytelling has the same old audience.
And that audience is: humans. Just because digital allows for completely non-linear, user-directed narratives, it doesn't automatically follow that humans want their stories told this way. That was the message from The Goggles, producers of the hugely popular 'online documentary' Welcome to Pine Point. They take a film-maker's approach to story production and stick to linear, layered and human experiences, even in the digital realm. They warned against letting let the technology 'tail' wag the story 'dog'.
Print is teaching digital new revenue tricks.
Staying with the dog analogy for a moment, one of the more surprising panels revealed, in quite some detail, how Pitchfork, Pando Daily and Modern Farmer (think: hipster agriculture) are using actual ink and paper publications to generate substantial and sustained revenue from largely digital audiences. Each publication had a completely different approach to their business model, but all three were working. And they're not alone.
Life is a warzone, and technology is embedded.
Literally dozens of panels covered wearable technology (it has to stop looking dorky if people other than dorks are going to embrace it), self-driving cars (an economic necessity wrapped in a legal minefield) and the internet of things (once objects can truly talk to each other, humans become optional). But the technology demo that had everyone talking? Helicopter drones with in-built Tasers, designed for law enforcement. Dear god.
SXSW is getting just a tiny bit more global
Make no mistake, the U S of A is still largely where it's at for SXSW (Chevrolet and Miller Lite are major sponsors, Chelsea Clinton was a keynote speaker), but the event is showing signs of opening up to a wider world. A quick run through the more than 800 talks, panels, discussions and workshops listed in the 5 day programme revealed several sessions dedicated specifically to exploring creativity, innovation and entrepreneurship in Latin America, Africa and Asia.
SXSW hasn't jumped the shark, but it does need a good editor.
Every year, SXSW is declared as being 'over'. The panels themselves could use a little more quality control (I attended too many sessions where 'storytelling' or 'innovation' were illustrated by a reel of advertising awards show entry videos), the queues are maddening and the internationalism needs a significant nudge, but I'm hard-pressed to think of another event a progressive marketer could learn so much, so quickly.
The real problem with SXSW is logistics: Austin is now at peak capacity. It's impossible to find a room, there is almost no public transport, Uber went down on day one and taxis avoid the city centre like the plague. Even getting out of town was a mission – when my cab failed to show just before dawn, I had to hitch-hike to the airport, in the dark, in last night's clothes. Stay classy, Baz.