Find your females: what are they really saying about your business and brand?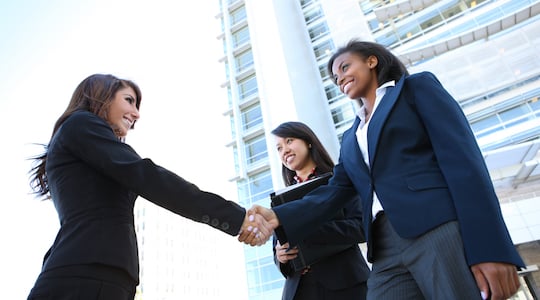 As females continue to obtain more wealth, own more businesses, and dominate purchasing decisions, Bec Brideson tells us it's time to acknowledge that women can make or break a brand.
You know those two signs that tell you which bathroom you should use? They exist because men and women have different genitals, not because someone was trying to create more work for environmental brand design agencies.
Largely we do accept gender difference as a biological fact based on physical, biological and behavioural traits just as we accept that a cat is different to a dog. The disparities between men and women significantly include brain functioning and decision-making processes.
Strangely though, a good deal of marketing still sees us as a large homogenous group, although only one of us is making the majority of consumer choices. Hint, it's not men.
Our consumer economy now and in the future will be ruled by one gender: Women, women, and more women. Need more proof?
get ready for a huge shift in financial power, with the prediction that by 2020 women's pay will overtake men's (The Daily Telegraph, Womenomics),
analysts have predicted that by 2025, women will own 60% of Britain's wealth with similar figures predicted for America (The Daily Telegraph, Womenomics),
of Britain's millionaires, 46% are female, with 24% more women than men in the 18-44 age bracket (The Daily Telegraph, Womenomics), and

currently women own 40% of the businesses in the United States, and their businesses are growing at twice the rate of U.S. firms as a whole (Sheconomy.com).
The oft-quoted Boston Consulting Group study (and book called Women Want More) details the greatest areas of dissatisfaction for these influential females. These are the findings from the 2013 survey of over 7000 women:
over 30% of women were most dissatisfied with home services specifically remodelling and cleaning, as well as work apparel,

close behind was a deep dissatisfaction for healthcare (29%) – physicians and hospitals specifically, as well as automotive, lingerie, life insurance and dress-up clothes, and

even in areas where marketing strictly caters to females like cosmetics, women expressed 25% of displeasure.
The Harvard Business Review summed up this study perfectly: "Women will continue to struggle with work/life balance, conflicting demands, and too little time. And women are the customer. There's no reason they should settle for products that ignore or fail to fully meet their needs. Women will increasingly resist being lumped together into an 'all women' characterisation, or, worse, undifferentiated from men."
As sales stagnate or decline for brands, and it gets harder to know where your dollars are working, there really is no safer bet to make than investing in women. The opportunities are open – women control the purchasing decisions and are coming into money whether through the workforce or inheritance.
So what's my advice?
If you are a category that is gender neutral or targeting women, it is time to find your females. Talk to them, listen to them, study them and embrace them. What are they really saying about your business and brand?
What are their beliefs about you?
What do they need in their over-stretched and time-poor lives where the average working-woman does twice the amount of housework and three times the amount of childcare?, where the average mother gets just 17 minutes to herself a day?
Rally your best, most diverse team of visionaries and grab your NPD caps and ask 'how can we fill the gap in her life? How can we make it better for her? How can we connect some dots she needs connecting, or be the oasis she was looking for?'
I call this the look, listen and love approach. Love her and she will most surely love you back.
Since 2004, Dove has been the pin-up case study for connecting with the female audience enjoying sales growth of $1.5 billion. Currently we have Always 'Like a Girl' fempro brand which has enjoyed 85 million views (the most viral video in the world by its second week) and double digit percentage increase in brand equity.
Why? Because, duh, women.
It never ceases to amaze me when male researchers and clients learn new truths about their products, which are mostly consumed by women. I've witnessed that penny-dropping, a-ha moment a million times during the research debrief. Yet to all the women in the room, it feels just like an everyday common sense connection given they have likely been consuming the category since they were eight years old.
Not so for the fellas! To them it's epiphany-central. On steroids. Hello wasted research budget. Which is why the conversation of gender segmenting and focussing on the most powerful consumer economy of women, often ends up in a conversation about diversity.
When we start to consider how diverse opinions might change outcomes, we see a world that is acknowledging that we've moved past the era of clinging to the Yellow Pages telephone directory.
When the female consumers opinion is considered, alongside with a diverse workforce, we counter the problem that many businesses are suffering from: old white guys talking to more white guys about some stuff that white guys don't even buy.
And, yet again, missing the point that the female consumer is making nine-out-of-ten purchasing decisions. Yes, I think we can all agree; it's time to move through our ignorance and acknowledge that women can make or break your brand.
_
Bec Brideson is a marketing-to-women pioneer helping brands and business leverage the growing female economy with more than 20 years advertising experience and insight. She owns her own agency. Visit becbrideson.com.